Posted March 17, 2022 at 10:37am by Anonymous (not verified)
Farm to Plate COVID-19 Resource Collection
Image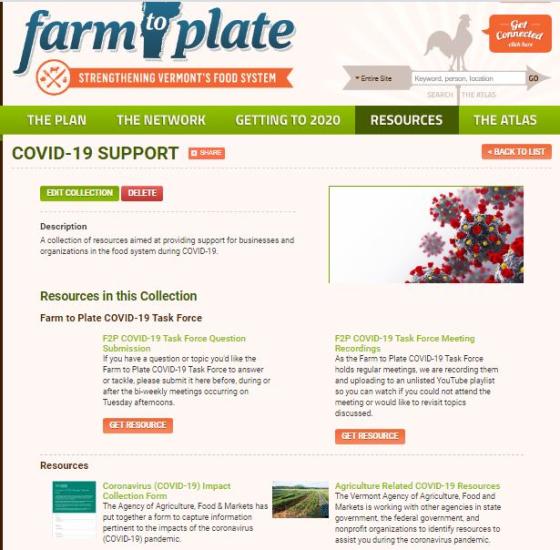 The Farm to Plate team here at the Vermont Sustainable Jobs Fund hopes all of you are in good health – mentally and physically, staying safe by following social distancing guidelines, and finding ways to remain optimistic about the future in what are unprecedented times. During these times, Farm to Plate is committed to helping farms, food businesses, and support organizations in our food system stay connected and coordinated, and find the resources they need to navigate the unprecedented conditions brought upon by the COVID-19 pandemic. Our COVID-19 resources page is intended to be a conduit to the many forms of help and assistance available to those impacted by the virus. We know there's a lot of information coming out on a daily basis, and hope this page can help make it easier to navigate and find what you need. As you look through the resources and see that help is indeed available, we hope you're heartened as we are by the rapid response of countless individuals and organizations in the state and across our food system to provide essential services and support to those in need – including our farmers, food processors, grocery store and food service professionals, foodbank and charitable food staff and volunteers, and distribution drivers who continue to face significant personal risks to keep us fed.
FARM TO PLATE COVID-19 RESPONSE TASK FORCE CREATED
In addition to the COVID-19 resources page, the Farm to Plate Network has created a COVID-19 Response Task Force. The intent is to bring together representatives across the food system for a weekly/every other week call where we can inform one another on how organizations are responding on the ground and needs they may have, identify areas for greater coordination/collaboration, stay out in front of state and national policy and supply-chain developments, and discuss what needs to be communicated from a food system perspective to the general public as well as the farm and food community. For those interested in getting more information about the calls and task force, contact jake@vsjf.org.
We're all fortunate to live in a state that has a strong spirit of community mindedness and togetherness, and a resilient food system that can fluidly adapt to global shocks – and this only puts greater emphasis on being grateful to those who work to strengthen our food system each and every day, and needing to continue to support and invest in our local food system long after the crisis of COVID-19 passes.
- Jake Claro, Farm to Plate Director at the Vermont Sustainable Jobs Fund
Access the resource at https://www.vtfarmtoplate.com/resources/collections/covid-19-support.