< Back to all events
12th Annual Farm to Plate Network Gathering
Image

Where
Killington Grand Resort
228 E Mountain Road
Killington, VT 05751
United States
Thank you for joining us!
This year's Gathering is all about "Cultivating Connections." Coming out of the depths of the COVID-19 pandemic, the desire to reconnect in-person runs deep. With global events intensifying fissures in our society, supply chains, and the climate, more than ever, we need approaches, models, programs, and innovation spanning the private and public sectors that bring people together to strengthen the environmental, social, and economic fabric of our food system. This is our first opportunity in two years, and since the launch of the new Farm to Plate Network structure, to truly be in the presence of one another as a full Network and to strengthen and forge new connections in the process that are vital to realizing the vision and goals of Vermont's 10-year food system plan.  
In addition to breakout sessions that embody the theme and span topic areas of food security, supporting beginning and young farmers, financing regenerative farming systems, supporting the future of Vermont dairy, understanding the state of migrant farmworkers, and lessons learned about disaster preparedness and food resilience, this year's Gathering will engage participants in group activities that cultivate connections within the Farm to Plate Network, as well as between individuals and organizations working to strengthen Vermont's food system.
Agenda Overview 
Please note that agenda times are subject to change.
8:00 - 9:00 Registration and Check-in  
9:00 - 9:15 General Welcome & Introduction
9:15 - 10:15 Interactive Network Weaving Exercise
10:15 -10:30 Break
10:30 - 11:45 Small Group Network Activity
11:45 - 12:00 Morning Reflections
12:00 - 1:15 Lunch  
1:15 - 1:30 Transition to Breakout Sessions
1:30 – 3:00 Breakout Sessions
3:00 - 3:15 Gather Back & Transition to Topic Exchanges
3:15 - 4:30 Topic Exchange Meet-Ups
4:30- 5:00 Gather Back and End of Day Reflections
5:00- 6:00 Personal Time/Happy Hour
6:00 - 8:00 Banquet Dinner
Break-Out Session Descriptions
This year's Gathering will have one 1.5 hour block of six concurrent sessions. See session descriptions below:
Regenerative Agriculture Investment Initiative
A group of VT nongovernmental organizations (NGOs) and like-minded organizations are working together to research and develop a funding mechanism to resource Vermont's working landscape and land stewards in a BIG way – a goal of $100 million in new investment and funding by 2025 – through unique funding and investment strategies (e.g., ecological asset trusts, ecosystem service markets, large scale transitions to climate adaptive farming). Ultimately the model will engage investors, philanthropists, and state and federal agencies interested in natural asset investment with means to support a transition to regenerative farming systems and supply chains.
The State of Migrant Farmworkers and Migrant Farmworker Initiatives in Vermont
This session will cover current initiatives addressing issues faced by migrant farmworkers and engage participants in a discussion on how Vermont is both succeeding and falling short of meeting farm workers' needs in relation to a range of topics (e.g., labor issues, immigration, farm safety, health, education, housing), and an opportunity to hear what actions individuals and organizations can take to improve current circumstances.
Food Resilience Adaptations: Lessons from Vermont and Puerto Rico
Despite differences in language, culture, and climate, Vermont and Puerto Rico share many challenges in pursuing food resilience and community economic development. This session focuses on a multi-year collaboration between researchers at the University of Vermont and the University of Puerto Rico at Mayagüez examining disaster preparedness. We will begin with a brief presentation of key lessons learned from adaptations to natural disasters and public heath crises in both Vermont (Tropical Storm Irene, COVID-19) and Puerto Rico (Hurricane María, 2020 Earthquakes, COVID-19). The remainder of the session will be collaborative, drawing on participants' experiences and examples of adapting to disasters; utilizing components of the Food Resilience Toolkit; and collectively developing strategies for greater preparedness for future shocks in Vermont and beyond.
Strengthening Farm to Plate Network Support for New and Beginning Farmers  
New and beginning farmers in Vermont face many structural barriers, including land access, affordable housing, childcare, and health insurance. We are fortunate in Vermont to have so many excellent programs, service providers, and producer associations available to assist new farmers. In May 2022, the Vermont State Legislature passed a bill that requires the Vermont Agency of Agriculture, Food and Markets (VAAFM) and the Vermont Housing and Conservation Board (VHCB) to inventory all programs and resources for new and beginning farmers, assess the coordination between programs, and recommend improvements by January 2023. Representatives from VAAFM and VHCB, and other key partners in this work will facilitate a collaborative conversation about how we can improve our communication, coordination, and service to new and beginning farmers. Bring your ideas for how regulators, business advisors, and production technical assistance specialists can work together to build a strong support network and improve outcomes for new and beginning farmers.
Understanding Current Realities and Future Direction of the Vermont Dairy Industry: Takeaways from a Small Dairy Cost of Production Study and Early Outcomes of New England Dairy Business Innovation Center Investments
This session asks participants to think creatively and seriously as to how we can collaborate in Vermont and the region to support Vermont's dairy industry, particularly smaller dairy operations in the industry that represent roughly 20% of the farms left in Vermont. This will include an examination of results and implications from a dairy cost of production (COP) study in Northern Vermont-conducted by the Center for An Agricultural Economy (CAE) with the support of NE-SARE funding, reflections on what is currently going on with Vermont Dairy broadly and the outcomes of forward looking funding and investments from early grant rounds of the NE-DBIC, and dialogue focused on identifying opportunities where we can work together for Vermont dairy farmers.  
Food Security, Farm Viability, and Addressing Root Causes of Hunger: Evolution, Learnings, and Reflections of Food Access and Security Programs in Vermont
This session will focus on the successes, challenges, and economic and social impacts of multiple food access and security programs in Vermont that are attempting to successfully address food security, farm viability, and root causes of hunger. Some of these programs have been operating for many years (e.g., Vermonters Feeding Vermonters) or even decades (e.g., NOFA-VT's Farm Share), while others emerged recently out of the pandemic (e.g., Vermont Everyone Eats) or even this year (Vermont Foodbank's Innovation Lab). By examining these programs together and sharing learnings and reflections, participants will have the opportunity to engage in a rich discussion which will include the intersection of food security and farm viability, root causes of hunger, and ways that programming could evolve in the future through collaboration and coalition building.
Registration Info
Registration: Fees range from $65.00 to $189.00 depending on when you register and what meal options you select. An early bird registration rate of $65.00 will be offered until October 21, 2022, after which the registration price will increase to $85.00. Registration closes on Wednesday November 2, 2022.
Scholarships: Farm to Plate offers scholarships to farmers and farm workers, small business owners, food business employees, small non-profits and community groups, students, and black, indigenous, and people of color. Attendees may apply for assistance to cover or reduce their cost of attending the Gathering.
Food: Meals are offered as a la carte options that you may choose to add to your registration.  All prices are inclusive of tips, taxes, and fees.   
Lodging: There will be opportunity to socialize and catch up with friends and colleagues outside of the official event agenda. We encourage you to stay overnight and take advantage of the room block that is held for Gathering guests. Please note that registration fees do not include overnight accommodation. You can reserve a room by calling The Killington Grand Resort at 800-282-9955 and referring to the VT Sustainable Jobs Fund/Farm to Plate Gathering 2022. Be sure to book by October 18th to ensure availability of blocked rooms.
Thank You to Our Sponsors
Thank you to our many Farm to Plate Sponsors for making farmer scholarships a possibility for this event. Interested in becoming a sponsor? Please contact sydney@vsjf.org for more information.
Dairy Level Sponsors: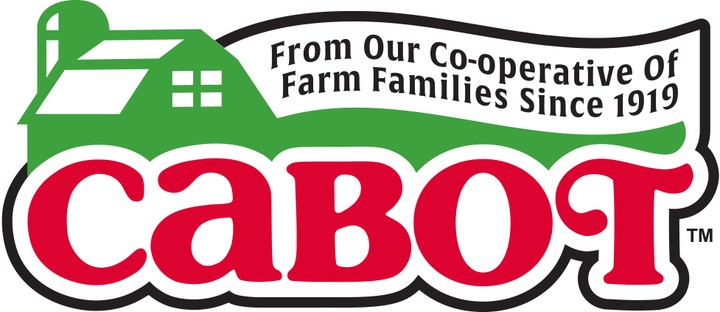 Maple Level Sponsors:
Apple Level Sponsors:
Cellars at Jasper Hill
Chelsea Green Publishing
City Market
Clean Yield Asset Management
Efficiency Vermont
Farmers To You
King Arthur Flour
Lamoille Economic Development Corporation
NOFA-VT
Organic Valley
Shelburne Farms
Vermont Economic Development Authority
Vermont Land Trust
Blueberry Level Sponsors:
Hunger Mountain Coop
Intervale Center
Pete's Greens
Snug Valley Farm
Vermont Housing and Conservation Board Farm & Forest Viability Program
Seedling Level Sponsor:
Bourne's Energy
Champlain Orchards
COVID Gathering Policy
Farm to Plate will make every effort to facilitate a connective in-person event while minimizing the risk associated with gathering in person. We will be following CDC and Vermont Department of Health guidance at the time of the event.
As of September 2022, Vermont's COVID-19 Community Level Risk is LOW. Our current meeting policy is as follows:
Masks are optional and welcome. We encourage participants to wear a mask based on their own level of risk and personnel preference.
We kindly ask that you extend the following courtesies to fellow attendees:
Be up to date with your COVID-19 vaccines   
Test yourself at home before departing, regardless of how you are feeling
Proactively monitor yourself and stay home if you are experiencing any symptoms associated with COVID-19
Be an ally to your colleagues that choose to wear a mask
In the instance that we see Vermont's COVID-19 Community Level Risk tick up in October, Farm to Plate will adjust its mask and Gathering policies in accordance with CDC and Vermont Department of Health guidance. Attendees will be notified about any changes made to event logistics or COVID safety precautions. 
Registrations cancelled prior to 7 days before the event will be fully refunded minus a $25 administration fee. Should you test positive for COVID-19 within 7 days of the Gathering, or need to cancel for any other reason, you may choose to donate your registration or send a substitute in your place. Please reach out to info@delaneymeetingevent.com for assistance.
Traveling to and attending large events during the COVID-19 pandemic places individuals at risk. Attendees in person will be participating at their own risk. Neither the Vermont Sustainable Jobs Fund, nor Delaney Meeting & Event Management, will be liable should an attendee contract COVID-19 while participating in or traveling to the Farm to Plate Gathering in Killington, Vermont.