FARM TO PLATE GOALS AND OBJECTIVES FOR 2030
Each of the 15 statewide food system strategic goals contains a set of objectives - the measurable improvements that represent progress and will be tracked over time to indicate the degree to which the goal has been accomplished. Some objectives already contain known targets, while other objectives require additional work to establish baselines and set specific improvement targets. In total they will inform the actions of the Farm to Plate Network, policy makers, state agencies, and others, and hold us all accountable to achieving our intended goals.
You can explore the objectives - the indicators of progress - by clicking on the goal numbers below. Goals are divided into four categories. The first three correspond with the three legislative outcomes of the Farm to Plate Investment Program. The fourth is our commitment to racial equity.
Goal Categories: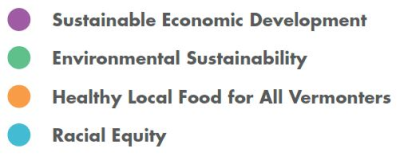 Farm to Plate Annual Reports
Farm to Plate Goals
Click to learn more and see data about our goals.