< Back to all events
13th Annual Farm to Plate Gathering
Where
Killington Grand Resort
228 E Mountain Road
Killington, VT 05751
United States

Registration for the 2023 Farm to Plate Annual Gathering is Open!
Join us in Killington for a two-day event on Thursday, November 16, and Friday November 17, 2023.
---
The theme of this year's Gathering is "Transformative Change".
Why Transformative Change? There is a growing sense in Vermont and the Farm to Plate Network that now is the time to "be brave" in how we work together to address some of the most pressing issues facing our state, region, and world. Business as usual no longer feels up to the task of addressing issues like climate change, economic inequality, industry and market consolidation, food insecurity, and racial inequity. To emerge out of the next decade with climate resilience and environmental sustainability, shared economic prosperity, food security, and racial equity, together we need to cultivate new mindsets, culture, institutions, business models, and behaviors that can transform the structure, function, and purpose of our food system.
Over two days, we will engage in transformational thinking and practice to better understand how we can create and support the conditions for transformational change. Through personal stories and breakout sessions spanning all aspects of the food system, we'll learn about the successes and struggles of those in Vermont's food system who are already involved in transformational work.
Breakout sessions this year highlight the different ways transformation is happening within Vermont's and the Northeast region's food system. They will provide applied lessons and skill building to guide and improve work happening across the food system, introduce new ways of thinking or provocative ideas to challenge our understanding of existing norms, and engage participants in activities designed to build partnership and collaboration.
---
Agenda at a Glance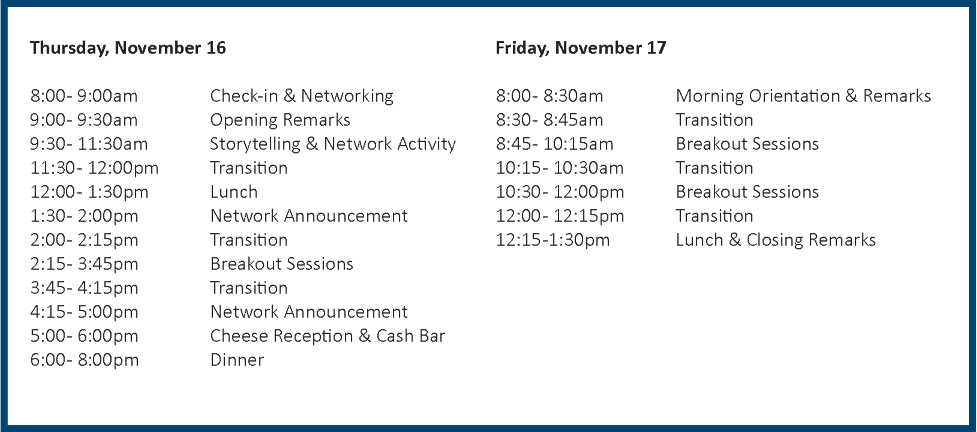 ---
Thursday Breakout Sessions | 2:15 - 3:45pm
The New England Feeding New England: A Regional Approach to Food Self-Reliance - NEXT STEPS!
The New England Feeding New England: A Regional Approach to Food Self-Reliance was released in June 2023 setting a goal of 30% regional food production and consumption by 2030. But what will it really take to grow, raise, produce, and harvest more regional food and move it through a complex supply chain to our homes and other places we eat? What do we need to do in the near term to make tangible progress towards this goal?
In this session we will explore key findings from this seminal research and then in small groups, explore a number of strategic questions designed to generate next steps for action in Vermont.
Facilitator: Ellen Kahler, Executive Director, Vermont Sustainable Jobs Fund
Panelists: Leah Rovner, Project Director, New England Feeding New England; Holly Fowler, Co-Founder, Northbound Ventures Consulting, LLC; Chris Peters, USDA Agricultural Research Service - Food Systems Research Unit
Moving $: Building Equity through Wealth (money, land, power) Redistribution
Calling all Moving $ participants, VT White Conservation Leaders in Solidarity participants, Resource Generation members, and EVERYONE who is committed to building equity!
Many non-profits, government agencies, and philanthropists in Vermont's food and conservation networks have been exploring how to become more inclusive, just, and equitable, and we continue to see them invest in DEI trainings and racial equity action plans. But real equity cannot occur without a systemic redistribution of control over money and land. Come to this session to honestly reflect and courageously commit to activating your sphere of influence to redistribute power to Black and Brown communities.
Facilitator: Jean Hamilton, Concerned Community Member
Panelists: Mandy Fischer, Program Director, Intervale Center; Shane Rogers, Community Organizer
Going Deeper on Transformation of Food Systems: An Agroecological Perspective
The idea of transformation sounds exciting but can also feel overwhelming. Team members from the UVM Institute for Agroecology (IFA) will facilitate a conversation about what food system transformation requires, drawing on theories of change and relevant case studies. We will then share practical tools and invite participants to apply theory to their own efforts to transform food systems.
Facilitator: Ernesto Mendez, Faculty Director, Institute for Agroecology (IFA)
Panelists: Martha Caswell, Associate Director for Community and Learning, IFA; Emily Hoyler, Operations Manager, (IFA); Katie Horner, Postdoctoral researcher (IFA); Vic Izzo, Head of Undergraduate Programs (IFA)
Land Access, Food Sovereignty, and the Vital Role of Climate as a Catalyst for Transformation
In this session, we will explore themes related to Food Sovereignty and Land Access that we believe can help Vermont move towards a more resilient future: prioritizing Indigenous knowledge/perspective and looking to neighboring states/countries experiencing similar climate issues that can provide equitable approaches/techniques to help us shift our focus to working with the land instead of fighting against it.
We will facilitate a panel discussion, including subject matter experts, visionaries, and leaders from the interdisciplinary perspectives of food security, equity, land access, and land use. Participants will have time to engage in an interactive discussion. Our hope is that folks leave this session feeling renewed, energized, and hopeful for VT's future, with actionable thought-provoking ideas for their daily work and practice.
Co-Facilitators: Ari Rockland-Miller; Senior Agricultural Development Coordinator, VAAFM; Lechelle-Antonia Gray, Equity Consultant, The Creative Discourse Group & Outreach Manager, Hunger Free VT
Panelists: Josh Allen, State Outreach Coordinator, LGBTQ+ Special Emphasis Program Manager, USDA; Sarah Waring, State Director, Rural Development, USDA; Chief Shirley Hook, Koasek Council of Chiefs; Willow PREC team member, Willow Permanent Real Estate Coop
Building Demand through Policy: Learning from the 'Healthy School Meals for All' Campaign
In this session, participants will learn about the process, success, and next steps of the Farm Fresh School Meals for All campaign, which includes Universal School Meals and the Local Foods Incentive. Through this example and the lens of food security initiatives, we will explore how policy can be leveraged to build demand.
Participants will engage in next step components of the policy initiatives moving forward and have opportunity to provide feedback around solutions for meal programming in childcare, the definition of 'local' for the local foods incentive, and generally participate in a community of practice discussion.
Facilitator: Keely Agan, Early Childhood Nutrition Manager, Hunger Free Vermont
Panelists:Kayla Strom, Farm to School Programs Coordinator, NOFA-VT; Betsy Rosenbluth, Farm to School Director, Shelburne Farms; Amy Shollenberger, Owner, Action Circles
Mapping Supply Chain Infrastructure Across Vermont
Resilient supply chain infrastructure for aggregation, processing, storage, and distribution is essential for Vermont farmers to access local and out-of-state markets. In this session, supply chain stakeholders will facilitate regional breakout groups to identify existing infrastructure, discuss current or future supply chain needs, and make connections between underutilized existing facilities and plans for new facilities or programs across the state. The goal of this session is to find those connections and identify gaps where potential new projects, partnerships, collaboration, and investments could or should be made to better connect regions of the state, creating new markets within and outside of the state for Vermont producers.
Facilitator: Tad Cooke, Principal, Larklea
Panelists: Corey Hennessey, Deputy Director, Center for an Agricultural Economy; Sam Smith, Farm Business Director, Intervale Center; Heidi Lynch, Executive Director, Vermont Farmers Food Center; McKenna Hayes, Food Hub Director, Food Connects
---
Friday Breakout Sessions | 8:45 - 10:15am
Checking our roots – where did we come from? Spreading our Wings – where do we want to go? Programming and supports for immigrant migratory farmworkers in Vermont, 2007-today
Vermont's dairy industry has relied on immigrant farmworkers for nearly two decades. UVM researchers and programs have been developing programs and delivering services that support farmworkers since 2007, including innovative programs on farm labor management, housing standards, statewide healthcare access, English language instruction, and access to the federal Migrant Education Program. While these programs do not address federal policy-level issues impacting immigrant labor, such as immigration and labor laws, they have influenced state policy and led to the design of an array of projects that support the well-being of immigrant farmworkers, including language and communication, access to education and healthcare services, safety trainings for farm work, and improved farmworker housing.

Panelists will lead you through a brief history describing the development of these projects and the growth of partnerships throughout Vermont, as well as a discussion about current systems and projects. Questions and discussion will center on how networks to support immigrant farmworkers can continue to grow through collaborative approaches.
Facilitator: Esbey Hamilton, Farmworker Education Leader, UVM Extension
Panelists: Sara Stowell, Outreach and Enrollment Coordinator, UVM Extension; Naomi Wolcott-MacCausland, Migrant Health Leader, UVM Extension; Daniel Baker, PhD. Associate Professor of Community Development and Applied Economics Emeritus, UVM
Evolution in a State Resistant to Change - Cultivate Courage to Shift Perspective
This session will offer applied skills to listen, strengthen the discomfort muscle, and deepen the ability for more critical thinking. Receptivity to other ways of knowing supports more inclusive ways of building racially equitable communities for generative transformative change in Vermont's food system and agricultural community.
Facilitator: Lechelle-Antonia Gray, Equity Consultant, The Creative Discourse Group & Outreach Manager, Hunger Free VT
Panelist: Rae Carter, Equity Consultant, The Creative Discourse Group & Founder, EmpowR Transformation
Community Cooperation, Catchment Contracting, and Economic Democracy to Heal our Watershed Homes
For years, Land Care Cooperative owner-member farmers, scientists, local institutions, and allies have been building Catchment Contracting, a bottom-up change program for effectively healing our watershed homes and practicing neighborly economics and economic democracy. Catchment Contracting is rooted in community care and cooperativism, landscape-feedback science, harnessing the power of money-creation to hire organized, competent land stewards to heal land at the "cost of production plus profit," solidarity, and data cooperativism. Alongside working-class, yeoman, peasant and Indigenous peoples around the world, the Land Care Cooperative paradigm rejects the enclosure, commodification and financialization of nature and provides a class-conscious and viable alternative to healing the land community.
This session will squarely address the critical strategy and governance questions of both "where will the money come from," and "where does money come from?"
Facilitator: Abe Collins, cofounder, Land Care Cooperative
Panelists: Christine Desan, Leo Gottlieb Professor of Law, Harvard Law School & Co-director, Program on the Study of Capitalism, Harvard University; Katharina Pistor, Edwin B. Parker Professor of Comparative Law & Director of the Center on Global Legal Transformation, Columbia Law School; Jakob Feinig, Assistant Professor CCPA Human Development, Binghamton University; Jennifer Byrne, Manager, White River Natural Resources Conservation District; Eliza Letourneau, Field Science Lead, LandWEB; Farmers of the Land Care Cooperative
Climate Farmer Stories: messaging as a strategy to reframe the narrative around farming and climate change
Climate Farmer Stories message frames? Come learn what they are, how they were developed, how they are being used, and how you can be a part of amplifying them! Learn how specific messaging around farming and climate change was developed by Climate Farmer Stories cohort member farmers through a collaborative process led by the political strategy firm, Action Circles. These messages are designed to reframe the public narrative and show that farming can be part of the solution to climate change, rather than a cause of it, and to build power among local farmers using sustainable, regenerative farming practices.
Facilitator: Erica Hiller, Project Manager, Vital Communities
Panelists: Amy Shollenberger, Owner, Action Circles; Norah Lake, Head Farmer & Owner, Sweetland Farm; Kara Fitzbeauchamp, Farmer & Co-owner, Evening Song Farm
Let's Make Vermont's Menu Pesticide Free!
The Farm to Plate Ten Year Strategic Plan recognizes the importance of public health, quality food supplies, and safe production methods, calling for 20% statewide pesticide usage reductions by late 2030. While pesticides are deployed in numerous scenarios, their usage for insect and vegetation control is doubly significant; the compounds end up in food supplies as a given, yet strong alternatives exist to manage both insects and vegetation without chemicals. The Strategic Plan is the ONLY document in Vermont acknowledging the wisdom of reducing our pesticide / PFAS footprint with measurable goals. As the path forward has yet to be well visioned, this session will engage audience members in laying concrete steps to achieve reduction goals and benchmark progress toward healthier food production, pollinator protection, and resource stewardship.
Facilitator: Michael Bald, Co-Founder of the Vermont Pesticide and Poison Action Network & Owner of Got Weeds?
Panelists: Marguerite Adelman, Co-Founder of the Vermont PFAS / Military Poisons Coalition; Judith Schwartz, Author, Speaker, and Writer; Andrew Munkres, President, Vermont Beekeepers Association, Beekeeper, Teacher
Rebuilding the Middle: Collaborative Regional Value Chains in the Northeast
Concentration and consolidation in the US meat sector has eroded the prominence of small to mid-scale livestock producers and processors. Regions across the US now face the conundrum of "the Missing Middle"--the critical infrastructure between producer and buyer and midscale operations that are appropriate fits for local and regional economies. However, catalysts of change are emerging and tackling these challenges through the rebuilding of "Collaborative Regional Value Chains" across the US.
This Deep Dive will feature four of these efforts and the prototype of a new open-source "matchmaking tool" developed by the Lexicon of Sustainability. This tool is designed to connect livestock producers, processors, and buyers. Participants will discuss how the tool might be adapted to best serve the meat sector in Vermont and the Northeast.
Facilitator: Philip Ackerman-Leist; Farmer and Editorial Director, The Lexicon
Panelists: Beth Whiting, Farmer and Owner, Maple Wind Farm; Bruce Hennessey, Farmer and Owner, Maple Wind Farm; DeMetris Reed, Faculty Member & Director of the Meat Lab, Vermont State University; Elizabeth Roma, Owner, Roma's Butchery; Allan Reetz, Director of Public & Government Affairs, Hanover Coop
---
Friday Breakout Sessions | 10:30am - 12:00pm
The Cows Don't Milk Themselves: Migrant Farmworker Rights & Milk with Dignity
Join us to hear immigrant farmworker leaders from the community organization Migrant Justice talk about challenges faced by migrant farmworkers in the dairy industry. Farmworker spokespeople will also talk about how the community has come together to organize and address issues, as well as how supporters can get involved and support.
Attendees will engage by hearing directly from farmworker community leaders and through photos to illustrate the conversation material. Participants will leave with a clearer understanding of how immigrant dairy workers fit into the agricultural economy of Vermont and larger supply chains and how to support and stand alongside farmworkers in their struggle for access to human rights and dignity.
Facilitators: Migrant Justice Organizers
Transforming Food Security Work
In this session, we will explore the structural transformations that need to take place to lay the foundation for food security for all. Panelists will discuss Milk with Dignity, The Right to Food, and the work being done by NOFA-VT and the Vermont Foodbank's Innovation Lab. The discussion will cover root causes of food insecurity, tangible ways to address inequity in the food system, the role of nonprofit organizations, and the possibilities of food sovereignty and agroecology. We encourage participants to come with questions and critiques.
Facilitator: Tatiana Abatemarco, Director, Food Security Innovation Lab, Vermont Foodbank
Panelists: Molly Anderson, William R. Kenan Jr. Professor of Food Studies, Middlebury College; Grace Oedel, Executive Director, NOFA-VT; Marita Canedo, Migrant Justice - Justicia Migrante; Madeline Sharrow, Migrant Justice - Justicia Migrante
Agroforestry in 3-D: Sharing Perspectives, Practices, and Solutions from the Ground Up
Agroforestry is the intentional integration of trees and shrubs into crop and/or livestock operations. Drawing upon traditional ecological practices and underpinned by research, it offers a myriad of environmental, social, and economic benefits. In fact, agroforestry is considered one of the most promising land-use approaches available for adapting our landscapes and food system to climate change and helping mitigate climate change's harmful effects.
Join us for an interactive discussion on how agroforestry can be used to transform our food system and reimagine landscapes for the better. We will share our team's accomplishments so far and discuss where to go next. Discussion will be guided by the following questions: What is the status of agroforestry in Vermont? What barriers do we face? What opportunities do we want to realize together?
Facilitator: Aaron Gunman, Independent Consultant
Panelists: Suzy Hodgson, Sustainable Agriculture Outreach Specialist, UVM Extension; Matthew Burke, Research Associate, Leadership for the Ecozoic, Department of Community Development and Applied Economics, Gund Institute, UVM; Members of the Agroforestry Priority Strategy Team
"How can we fund a farm without generational wealth?" An Exploration
This interactive session will bring together a panel of capital providers, farmers/entrepreneurs, and nonprofits involved in expanding access to capital and other resources to BIPOC and socially disadvantaged farmers to discuss experiences, including successes, challenges, and opportunities. This session will explore the following questions and highlight approaches to capital access that are broadly applicable beyond the specific asset of farmland.
How can Vermont support farmland access by BIPOC, socially disadvantaged, and beginning farmers, given a national intersection of land transfer and wealth inequality?
What are examples of upstream funding-sources, application processes, financial-agreement terms, and success factors that foster a clearer understanding of such opportunities?
What are the limits of debt-capital in supporting BIPOC land access in the face of more frequent extreme weather events?
Co-Facilitators: Eric DeLuca, Curator--Financing for Farmland Access Team--VT Farm to Plate Network; Curtiss Reed, Jr., Executive Director, Vermont Partnership for Fairness and Diversity
Panelists: Jake Kornfeld, Co-owner, The Farm Upstream; Melisa Oliva, Co-owner, Ananda Gardens; Samantha Langevin, Representative of Vermont RELEAF Collective on the Land Access and Opportunity Board; Mark Watson, President, Potlikker Capital; Jake Ide, Director of Investment & Philanthropy, Vermont Community Loan Fund
Social Mycelium of Composting with Farms, Schools, and Communities
Sustainable regional initiatives require technical expertise and a social mycelium - a web of wisdom and support.
In this session, we'll highlight three community-scale composting projects that use a similar framework: the on-farm composting and community composting projects of the Composting Association of Vermont and the Super Compost Project for schools from Grow More, Waste Less and the Regeneration Corps. These projects are accessible and inclusive, offer a cost-effective solution for diverting food and organic waste to composting, significantly benefit farmers and community members, and provide opportunities for youth to be leaders in real-world-climate-solutions. We'll describe our projects, share tools and techniques that help grow a community of practice to bolster the long-term success of such initiatives, and practice applying and adapting our framework to any regional- or community-scale project.
Co-Facilitators: Cat Buxton, Grow More Waste Less; Regeneration Corps; Vermont Healthy Soils Coalition; Natasha Duarte, Director, Composting Association of Vermont (CAV) and Chair, Food Cycle Coalition
Exploring Greener Packaging
Cutting-edge research is being conducted by four Vermont food systems players, thanks to Sustainable Packaging Innovation funding by the Northeast Dairy Business Innovation Center.
Big Picture Farm, Cabot Creamery, Jasper Hill Farm and Vermont Creamery will present their findings to date, 18-months into a two-year grant period, on the hurdles, alternatives and solutions that their explorations have revealed across a variety of packaging types.
Facilitators: Laura Ginsberg, Dairy Development and Innovation Lead, VAAFM; Kathryn Donovan, Regional Programs Manager, VAAFM
Panelists: Louisa Conrad and Lucas Farrell, Owners, Big Picture Farm; Greg Bove, Director, Sourcing & Procurement, Cabot Creamery; Michelle Risley, Sourcing Manager and Jessica Riley, Sourcing Analyst, Cabot Creamery; Zoe Brickley, Director of Communications & E-Commerce, Jasper Hill Farm; Eliza Leeper, Mission & Business Operations Manager, Vermont Creamery
---
Thank you Sponsors!
Dairy Level Sponsors: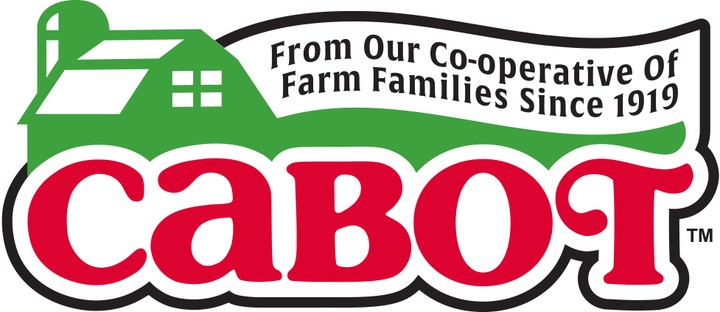 Maple Level Sponsors:
Apple Level Sponsors:
Blueberry Level Sponsors:
Vermont Housing and Conservation Board, Farm & Forest Viability Program
Seedling Level Sponsor: