What's At Stake?
Over the past 20 years, the local food category evolved from an emerging to a maturing market. In a mature market, the rate of growth for the category slows, and while the overall size of the category is larger, increased competition threatens individual market share. This requires enterprises, in this case Vermont farms and food producers, to invest in more strategic, responsive marketing or be left behind. To address these challenges, local food producers must become proficient in leveraging their "marketing mix" to drive sales. A "marketing mix" is defined by marketing professionals as the seven P's: product, price, place, promotion, people, processes, and physical evidence.
Current Conditions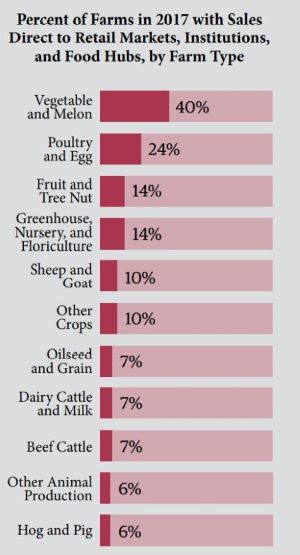 Over the past 20 years, with the exception of fluid milk and a few value-added products, Vermont-produced food has been shifting from primarily direct-to-consumer sales (e.g., farmers markets and community supported agriculture) to direct-to-retail sales (e.g., self-delivery to stores and restaurants) and distributor-serviced wholesale. As demand for "local" food has grown, so has the number of producers striving to fulfill this need. This has led to reduced market share for many, the outright demise of several, and expansion and consolidation for a few. To succeed in this environment producers need to be nimble and business-savvy, and invest in marketing.
In a direct-to-consumer setting, producers are often interacting with the consumer and can "sell" the product, tell their story, and develop a personal relationship. This direct relationship is a powerful marketing tool and can simplify the marketing mix, requiring primarily an investment in human capital. In retail and distribution sales, the producer and end user become distanced from one another. This distance requires the producer to augment relational marketing with marketing mix tactics that support the product's ability to sell itself (e.g., an eye-catching label, price, and packaging), as well as promotion to build brand awareness (e.g., paid advertising and a strong online presence).
A "marketing mix" is defined by marketing professionals as the Seven P's:
Product: product design, recipe, ingredients, packaging, production practices.
Price: suggested retail price, price to distributor or wholesaler, margins.
Placement: market channel, geography, shelf placement. 
Promotion: paid advertising, merchandising, events, social media, public relations, point of sale. 
People: sales representatives, customer service representatives, brokers, delivery staff, office staff, warehouse staff. 
Processes: production, sales, order fulfillment, distribution, inventory management. 
Physical Evidence: tangible goods received or services rendered, physical invoices, physical places of business, retail locations, internet presence.
"We aren't looking for new vendors so much as expanding the volume from current vendors. If you want to come knocking on my door what's your niche – what's your in? I've already got all these other growers. What do you bring that they don't have?" - Nathan Daniels, Produce Purchaser New England, Albert's.