Image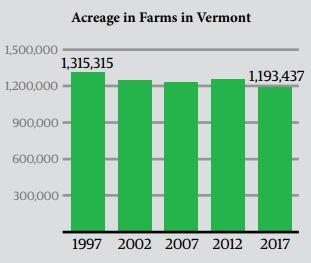 What's At Stake?
At a time when Vermont farms are facing downturns in prices and markets — and most are challenged to be profitable — farms are also set to transfer to new ownership at an unprecedented rate. The majority of Vermont farmers do not have a succession plan in place, and many do not have an identified successor. Of Vermont farmers 65 and older, 92% have no one under 45 working under them, and relatively few incoming farmers are interested in or prepared to assume responsibility for large-scale operations. This may lead to a change in the agricultural landscape that has not been seen for many generations, including a significant decrease in the amount of land in active agricultural use, land lying fallow for years or developed for other uses, and a setback in the amount of food produced in the state.
Current Conditions
Vermont farmer retirement and succession are occurring at a rapidly increasing pace year to year. For instance, the Vermont Land Trust estimates that as many as 300 farms could change ownership between 2020-2025. Many soon-to-be retiring farmers are not prepared to make decisions that will keep their land in farming, provide farming opportunities to family or unrelated producers, and maintain their farm business into the future.
It is much more difficult to successfully transition farmland and farm businesses when the businesses on the land are not currently profitable. In many instances, the retiring generation may profitably operate farmland with low debt, but future owners may not reach profitability because they will be servicing the debt load of the land purchase and/or investing in new farm infrastructure. In addition, new farm businesses tend to be significantly smaller farm operations in terms of acreage in active production than existing farm businesses, and this poses a challenge to successful land transfers to new and beginning farmers.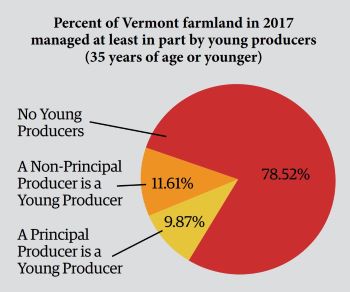 Vermont and the Northeast have services and tools available to support retirement and succession, as well as finding a buyer or successor, but the current funding, personnel, and promotion of these services do not match the high need (see Business and Technical Assistance brief). Although 21.6% of Vermont's agricultural land is conserved, we must confront the possibility that much of Vermont's agricultural land may be underutilized or at risk of being lost, potentially permanently, to development or alternative land uses in the near future. Additional human and financial capital are needed to accelerate the rate at which farms move through the succession process.