What's At Stake?
Vermont is facing a dramatic shift in the agricultural sector due to economic and demographic changes. The key to the maintenance and development of the farms that form the backbone of our rural communities is to support the next generation of farmers. These new and beginning farmers face a number of challenges including shifting markets and production models, increased risk due to climate change, and barriers to accessing land. The types of support that are critical to their success include assistance in identifying and accessing suitable land, development of strong management and production capacity, supportive policies around markets, and access to capital. The new generation of farmers needs this type of support to create viable farm businesses, to keep the Vermont landscape in active agricultural use, and to preserve the character of our rural communities.
Current Conditions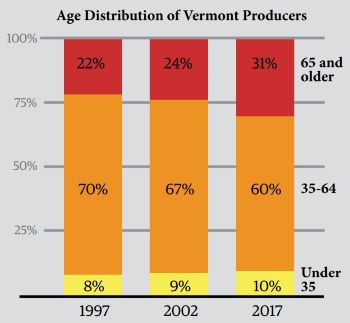 State and national trends show an aging farmer population, increased land pressure for non-agricultural uses, and a rapidly changing marketplace for agricultural goods. Within Vermont, the conventional dairy sector, which has long been the backbone of the state's agricultural economy, is struggling to maintain viability (see Dairy brief).
The current and future generation of Vermont farmers face a number of significant challenges, including limited markets for local products, increasing land values, increasing production uncertainties due to climate change, and evolving agricultural business models. In addition, starting and growing a farm operation has become increasingly capital intensive in terms of both operating expenses and land purchase. All of these factors combine to make for a very challenging environment for farmers to be successful.
As agricultural production practices and markets shift, accessing land remains one of the most important factors in the success of new and beginning farmers. The decline in the number of dairy farms in the state and adoption of diversified farming models is changing the types of farmland and infrastructure that are suitable for viable farm businesses. Land conservation initiatives like the Option to Purchase at Agricultural Value (OPAV) and the Farmland Access Program at the Vermont Land Trust promote increased affordability and access to farmland to some buyers. These projects are now paired with robust business planning and technical assistance to improve the potential success of the farmer. Although this process improves the potential viability of a new farm, the capacity to support these complex projects is still very limited due to funding constraints.
Despite the challenges faced by new and beginning farmers in Vermont, there are reasons for optimism within the agricultural sector. Vermont's new and beginning farmers are enthusiastic, resilient, and well supported in approaching farming as a business. They are supported by statewide service providers to grow their management and production capacity toward making sustainable business decisions.