What's At Stake?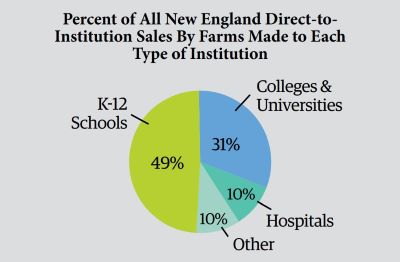 Colleges and universities, hospitals, and other health care facilities have a significant role to play in supporting Vermont's farm and food sector. They are important community anchors, serving as employers, educators, and thought leaders who interact with most Vermonters on a regular basis. They buy over $40 million in food annually, on a consistent and reliable basis, and thus provide an important market opportunity for Vermont farmers and food manufacturers. The cafeterias at these institutions create meaningful and lasting impressions on patients, students, staff, and visitors about how and what to eat. Healthy, sustainable Vermont food should be on the menu.
Current Conditions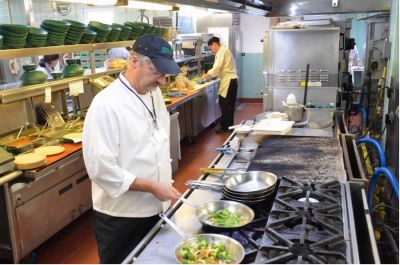 Vermont's 16 colleges and 16 hospitals serve tens of thousands of meals a day. Dining directors at these institutions overwhelmingly say they intend to buy more Vermont and New England food in the coming years. The increase in demand is coming from students, staff, and patients who increasingly expect to be served healthy Vermont food due to their experience with successful local food initiatives.
Investments in processing infrastructure for vegetables (e.g., Vermont Food Venture Center), beef, and pork (e.g., Black River Meats) are making processed products, which are easier to utilize in busy kitchens, more available to college and hospital buyers (see Lightly Processed Vegetables brief). Innovative purchasing strategies, including "forward contracting" at the beginning of the growing season, which guarantee sales for farmers and product availability for institutions, are helping increase local purchases as well. Changes in menus to favor seasonal foods and less meat enable institutions to use Vermont products without an increase in food cost. A strong network of organizations and agencies supports food service operators in the state and across the region with guidance, tools, and connections to accelerate promising practices that promote the use of local food.
However, colleges and hospitals still face significant barriers to increasing use of Vermont food. College and hospital budgets are getting tighter. Labor shortages make it challenging for dining operators to use whole (unprocessed) local produce and proteins which require more staff time and training, and to receive deliveries from multiple local producers. Consolidation in the food distribution industry has weakened relationships, and can make it harder for Vermont producers to become approved as vendors to these institutions and their distributors. Regional aggregation of dairy products makes it difficult to get 100% Vermont-produced and processed dairy. Further, institutions are accustomed to low prices for dairy as well as specific serving sizes and formats that some Vermont dairy processors cannot provide (see Dairy brief). New federal, state, and institutional food safety regulations and standards add costs to Vermont producers selling to institutional markets, increasing the price to buyers.