What's At Stake?
Retail food stores, from village markets to food cooperatives (co-ops) to national chain supermarkets, are the primary sales outlet for Vermont farm and food businesses of all sizes and scales. In 2017, Vermonters spent a total of $310 million on local food, purchasing 32% of those foods at Vermont co-ops and grocery stores.1 These stores have significant impact on Vermont's food producers, rural communities, and economy. The current trend toward out-of-state ownership and consolidation of distributors and food stores is greatly impacting the ability of Vermont farms and food manufacturers to sell their products to stores of all sizes.
The viability of independently owned businesses and regional supermarkets committed to increasing local sourcing is in turn critical to farm and food business viability. Vermont must support both growers' and value-added producers' ability to service grocery markets. Meeting growing consumer demand for fresh, local, high-quality products at grocery stores will advance Vermont's rural economic development and our rural communities.
Current Conditions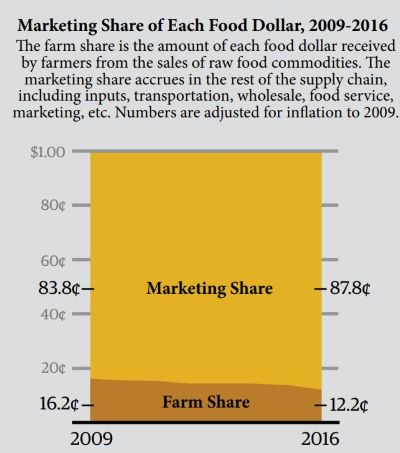 Local food and beverage sales at co-ops and other grocery stores in Vermont amounted to $98.5 million in 2017, with $42 million in local sales at co-ops alone. In total, Vermont's independently owned grocery stores (general stores, co-ops, rural convenience stores, on-farm stores, and small-scale supermarkets) account for approximately $750 million in retail food and beverage sales in Vermont.2
There is much room for growth in the grocery market channel, both locally and regionally, as retail demand for local products and many of their associated values is high among consumers. However, accelerated consolidation in retail and distribution businesses (e.g., Amazon's purchase of Whole Foods, Reinhart Foodservice's acquisition of Black River Produce and the subsequent purchase of Reinhart by Performance Food Group) threatens the viability of the grocery market for Vermont farmers and food businesses (referred to as "suppliers" in the industry). Consolidation increases downward price pressure, diminishes suppliers' leverage in negotiating favorable terms and prices, and creates barriers for new suppliers to access retail markets.
Consolidation is also happening at the independent store level and in rural areas. Over the past 15 years many independently owned village stores with gas stations were purchased by large, regional oil companies. This trend, combined with an influx of discount stores (e.g., Dollar General), shifted consumer purchases away from community owned and operated stores. At the same time, it reduces opportunities for local and fresh food to be sold within rural communities, some of which are, or are on the verge of becoming, food deserts.
Various business assistance and marketing initiatives have emerged over the past few years to address these challenges and capitalize on opportunities in retail (e.g., a distribution cost analysis tool, retail merchandising and local sourcing training, subsidized attendance at regional trade shows, and collaboration amongst food hubs). These initiatives and increased investments in farm infrastructure to improve food safety, production, and storage, are all key ingredients to maintaining vital grocery market sales for Vermont suppliers.