Posted May 25, 2022 at 08:47pm by Jake Claro
Culturally Relevant Foods: Bringing Halal Chicken to Our Community
Image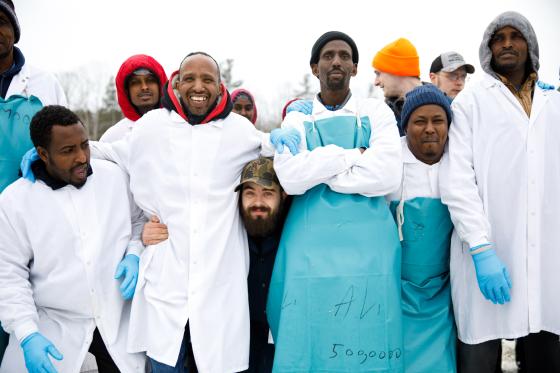 Food Connects, the Vermont Foodbank, and Common Wealth Poultry have partnered to bring Halal certified chicken to the new Afghan neighbors in our community.
Over the past few months, Brattleboro has welcomed Afghan refugees into our community. Community members have rallied behind our new neighbors, providing a variety of support services—it's been truly inspiring.
Food Connects has been eager to support our new neighbors, as well. Some of their staff members have cooked meals, and their Farm to School team has supported efforts in schools to welcome their new Afghan students. And now, their Food Hub has the opportunity to make an impact as well.
At Food Connects, they value inclusivity in the food system. That means access to nutritious, culturally relevant foods and participation in the food system. They believe that individuals should have the right to self-determination and food sovereignty—the right and access to make decisions over the food they eat. If you haven't had Afghan food before or do not know a lot about it, there are flavors and cultural differences that are crucial to honor. One significant barrier to our Afghan neighbors accessing and cooking traditional dishes was the lack of Halal-certified chicken.
First—what is Halal?
According to the American Halal Foundation, "Halal (also spelled halaal) is an Arabic word that means 'lawful or permitted.' It is a term that is used in the Islamic religion in contrast with the word haram (which means 'unlawful or not allowed'). These terms indicate which life practices are allowed or not allowed for those who practice Islam (Muslims). While halal refers to much more than just Islamic dietary practices, the term is most often thought of when talking about food, drinks, and other products."
Second—where can you get Halal products? Well, in the case of chicken, there was a resounding silence in terms of local production. So, when the Vermont Foodbank approached Food Connects about sourcing options for Halal chicken, they were on the case. Food Connects worked diligently with Common Wealth Poultry to create a source for this much-needed chicken.
Food Connects had the opportunity to talk with Zach Hebert, Associate Manager of Community Engagement: Southern Region for the Vermont Foodbank, about the project to learn more about how this partnership came to be and its significance for the Afghan refugees. they also talked to Trey LaPorta, Wholesale Manager from Common Wealth Poultry, about the process of certifying their chicken. Check out the conversation below.
Tell us a little bit about how this partnership came about.
Zach: A few months ago, back in the thick of winter, when Afghan refugees began arriving in Brattleboro, I had been in close conversations with the Ethiopian Community Development Council (ECDC) about ways the Vermont Foodbank could support our new neighbors with nourishing and culturally relevant foods. We took some initial actions, such as partnering with the local Everyone Eats program to make familiar meals and preparing welcome boxes full of familiar foods. As our new neighbors began to settle in our community, one need we continued to hear was a demand for halal meat products. To try to meet that need, several staff members at the Vermont Foodbank started exploring regional Halal meat options that met the scale of the need for our communities across the state.
You can read more about the Vermont Foodbank's work here.
Why did you decide to reach out to Food Connects?
Zach: Food Connects has been a close partner of the Vermont Foodbank for many years. While we haven't been a direct customer of its Food Hub until the past two years or so, its Farm to School Team has always played a vital role in improving food security within our local community. The staff there have always been close thought-partners and change-makers for our work.
From a purchasing perspective, the Vermont Foodbank has a strong commitment to working with Vermont and regional producers whenever it makes sense, and it aligns with responsible stewardship of our donor's donations. Having a pre-existing vendor relationship with Food Connects, after they became a Vermonters Feeding Vermonters partner with us last year, made the decision to reach out to Food Connects around sourcing this product a no-brainer for us.
In this particular format of working with Common Wealth Poultry, this partnership came about after some exploratory conversations between myself and Tom Brewton, Food Connects Food Institutional Sales Associate. Tom and I are close friends outside of work, and it is always a nice confluence of "small-town life" when we're able to come together to create something where both Food Connects and the Vermont Foodbank can play a vital role in supporting our community. After a few initial conversations, it became clear that there was a mutual interest in sourcing some halal meat for the local community, and that Food Connects would be well-positioned to identify the best producer to do that.
What excites you about this partnership?
Trey: We are very excited to be working with Food Connects for many reasons but most importantly, to be working with people who share many of the same values as the folks at Common Wealth Poultry. Especially those around creating a culture of transparency, honesty, and getting everyone the opportunity to have the highest quality food and to know where it comes from. We love working with people and companies that are passionate about the products they produce and distribute.
Why are culturally relevant and appropriate foods important?
Zach: Culturally appropriate foods are important because everyone deserves to have nourishing and comforting food in their lives. Food is so much more than just calories we consume—it emotionally recharges us, provides nourishment, and acts as a facilitator for equally healing moments of connection and conversation. Everyone deserves food that is appropriate for the culture and the dining room where they prefer to eat and build community. In this situation, where our new Afghan neighbors are dealing with so many unknowns as they enter a new part of their life, this feels like an important step in remaining committed to making their meals that much more accessible and familiar. 
Why are you eager to help support our Afghan neighbors?
Trey: We love our Afghan and African neighbors because many of them are included in the Common Wealth Poultry family. Our employees come from around the globe, so for them to be creating food that gets put directly into their culture and community brings us so much joy.
How has access to the Halal chicken impacted your lives (or the lives of your community members)?
Zach: While I can't speak directly to the impact this has had on people's lives, I know from how quickly our first order moved out of our warehouse that there is a clear need in the community for the halal chicken. The first "pilot" pallet we ordered has already been mostly distributed to our food pantry partners (and from there on to our neighbors). From the feedback I've heard, this Halal chicken has allowed families to prepare well-rounded meals for their families. I can't speak to the specific challenges of our Afghan neighbors, but I know that transportation barriers are a constant challenge for the folks we work with, so I'm sure being able to access this chicken from the same place they are already going for other foods without having to spend precious time and resources searching multiple stores or locations has been a huge relief.
What did the process look like to become Halal certified?
Trey: We started our Halal slaughter specifically to allow our employees to enjoy the products they make every day. We want our employees to be proud of the work they do and to be able to bring it home and enjoy it with their families, which fortunately leads to a whole new community of people we are able to service.
Food Connects is incredibly proud of this great community partnership as a way to welcome our Afghan neighbors and create a thriving and inclusive food culture in our community. They hope that this story will help inspire you to get to know our new neighbors and support their transition into our community.
Are you interested in working with Food Connects to create Healthy Families, Thriving Farms, and Connected Communities? Reach out to them at info@foodconnects.org on ways you can work together.

Food Connects is an entrepreneurial non-profit that delivers locally produced food as well as educational and consulting services aimed at transforming local food systems. The Food Hub aggregates and delivers from over 150 regional farms and food producers to over 150 buyers in southeast Vermont, southwest New Hampshire, and western Massachusetts. Their educational services focus on Farm to School programming. Acknowledged as a statewide leader, the program supports over 30 schools to increase local food purchasing, school meal participation, and food, farm, and nutrition education. Together these core programs contribute to a vibrant local economy by increasing local food purchases by schools and improving students' nutrition and academic performance. Food Connects is frequently hired to provide leadership and consulting services for efforts to support food systems initiatives throughout New England and act as a catalyst for change.