Posted September 24, 2021 at 09:24am by
Do you sell or serve food in Vermont?
Image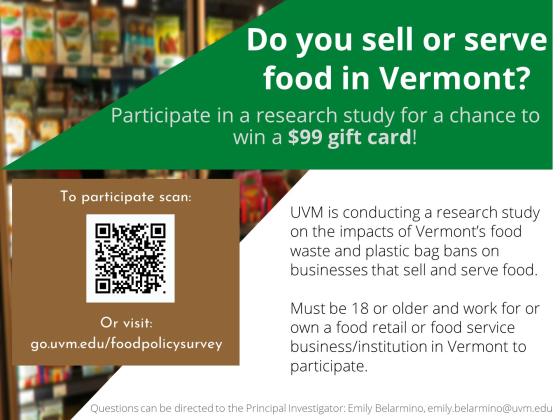 UVM is conducting a research study to understand the perspectives of food retailers and food service providers in Vermont regarding state laws on the disposal of food waste and the use of single-use products (e.g., plastic bags, paper bags, plastic straws), and the types of changes they made, if any, to adhere with these laws. The findings will be shared with policymakers and other key stakeholders working on policy related to food waste disposal and single-use products.  Participants will complete a 10-15 minute survey and have a chance to win one of eight $99 gift cards. Must be 18+ and work for or own a food retail or food service business in VT. To participate visit go.uvm.edu/foodpolicysurvey. Questions? Contact emily.belarmino@uvm.edu.