Posted September 29, 2023 at 06:40pm by Rasna Dhillon
Farmers win conservation awards
Image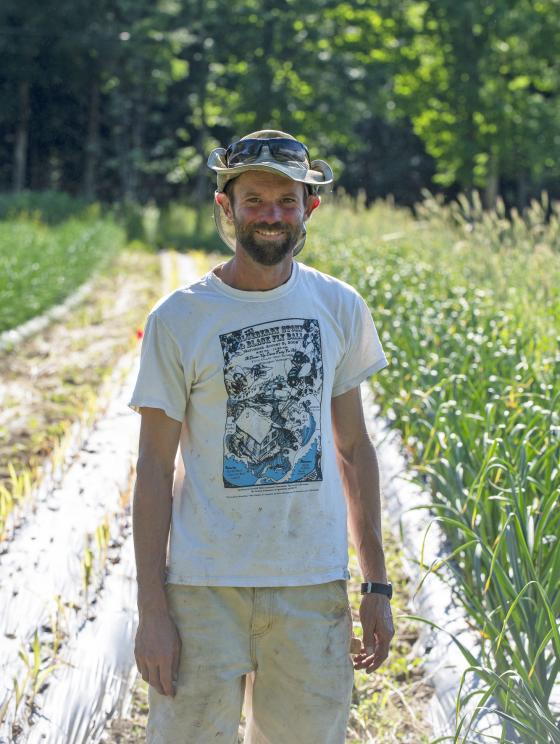 Kara and Ryan Fitzbeauchamp of Evening Song Farm & Sam Rowley of Green Mountain Tech and Career Center
We were thrilled to recognize Vermont farmers at our Annual Celebration in September 2023.
Farmer and teacher Sam Rowley of the Green Mountain Technology and Career Center received VLT's Land & Lives Award.
Kara and Ryan Fitzbeauchamp of Evening Song Farm in Shrewsbury won the 2023 Eric Rozendaal Memorial Award.
"We're delighted to celebrate these farmers and educators who inspire with their care for the land and their mission to connect people to healthy food," said Tracy Zschau, Interim President of VLT.
Evening Song Farm wins Rozendaal award
Kara and Ryan Fitzbeauchamp of Evening Song Farm received the $5,000 Eric Memorial Rozendaal Award in recognition of outstanding service to community, land stewardship and innovation. The award is given annually to a farmer who honors the legacy of Eric Rozendaal — a thoughtful, creative, and entrepreneurial farmer.
The Fitzbeauchamps started farming and running a vegetable CSA in Pennsylvania in 2009 before moving to Cuttingsville, Vermont in 2011. Their first farm here was destroyed by Tropical Storm Irene, when Mill River changed course and carved a new riverbed through their vegetable fields.
They restarted a few miles away, uphill from the river. They incorporated low-till methods and other practices for soil health on a steeply sloping hillside.
"We're focused on developing a farm ecosystem that can thrive in a changing climate," said Kara, "prioritizing the health of the land, farm team, and community for now and into the future. We see the work of farming as climate work and community building, so there is always more to learn, adapt, and experiment with."
They grow certified organic vegetables and herbs together with a team of farmers and offer a year-round CSA. More than 250 families subscribe to Evening Song Farm's CSA program. They offer subsidized low-income shares as well as senior health shares. In addition, they sell to area food co-ops, restaurants and, through grant-funded sales, charitable organizations.
"We feel incredibly grateful to be selected to honor Eric's important legacy within the thriving Vermont farming community," said Kara. "Farming has always been about more than food production, and trailblazers like Eric have been models for what new farms can aspire to. We appreciate the support from this grant to augment our ability to serve our community through food and land stewardship. Thank you."
Sam Rowley wins VLT's Land & Lives Award
Farmer and teacher, Sam Rowley teaches sustainable farming to high school students through the Green Mountain Technology and Career Center (GMTCC) in Lamoille County. He received the Land & Lives Award.
Given by VLT, the award recognizes qualities of leadership, resourcefulness, and inclusiveness that have made an enduring difference in the well-being of Vermont's land and people.
Sam's students learn and practice skills with him at Robtoy Farm in Cambridge, which VLT leases to GMTCC. The farm is part of Brewster Uplands, a property with farms and trails that was donated to VLT for all to enjoy.
"Sam is an incredible collaborator and partner," said Abby White, Vice President of Engagement at VLT. "He adds depth and connection through education, bringing more life and engagement to land that VLT holds for the public good."
Born in Brattleboro, Sam spent his early years in the Boston area, the Adirondacks, and in Ethiopia. After graduating from University of Vermont with a degree in Plant and Soil Science, Sam lived for a year in Kenya. There, he worked with farmers beekeeping, interned at the Butterfly Centre greenhouse, and visited many Kenyan national parks.
After returning to the US, Sam managed the UVM Extension/4H Youth Agriculture Project Farm and worked on small farms in the Brattleboro area, before becoming Horticulture Instructor at Windham Regional Career Center. Sam then moved to Lamoille County to his current position, running the Sustainable Agriculture and Food Systems Program at GMTCC.
"I am delighted to accept this award from a visionary statewide organization acknowledging the life I live as a farmer, teacher and Vermonter," said Sam.