Posted April 12, 2023 at 02:15pm by Kristen Thompson
Food Connects Welcomes Farm to School Program Manager
Image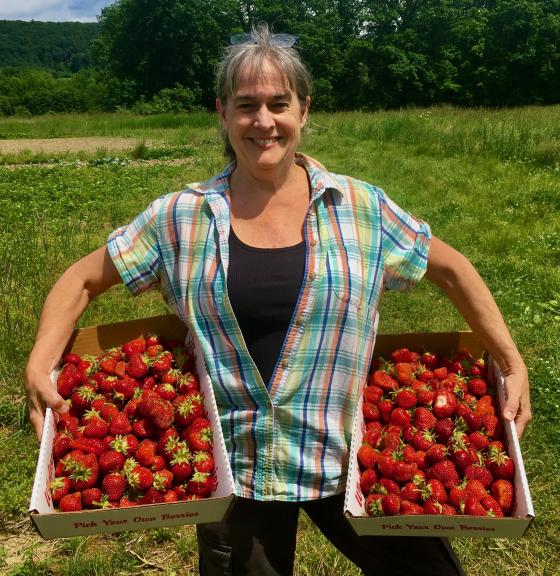 Food Connects is excited to welcome Kris Nelson as its Farm to School Program Manager. Kris joined the team at the end of 2022 and is bringing her experience in experiential education and service learning to guide the Farm to School program through its next phase of growth.
Kris's professional background focuses on fostering collaborative efforts between innovative community-based endeavors and K-12, higher education, and adult literacy programs. She brings a unique perspective to the organization and is committed to building a firm foundation for the Farm to School program.
Having recently completed a Doctorate in Education, researching college students' responses to climate change, Kris is thrilled to have landed in an organization committed to strengthening vital relationships among farmers, communities, young people, and the land. "I knew I wanted my next job to be connected to supporting regional food systems, and the Farm to School Program Manager position looked exactly right to me," says Kris. "The more I learned about Food Connects, not only the work it does but also the kind of organization it strives to be, the more I was sure I wanted to work here."
When asked about her goals in her new role as Program Manager, Kris says she hopes to help create a firm fiscal and structural foundation for the Farm to School program so it can continue its tremendous work."How can we keep the momentum going as a student moves from the awesome Farm to School activities they are doing in elementary school to equally awesome programming in the higher grades? That strikes me as a pretty exciting project."

Food Connects is an entrepreneurial nonprofit that works to transform the regional food system into one that is community-based to realize its vision of healthy families, thriving farms, and connected communities. Its Food Hub aggregates and delivers from over 125 local and regional farms and food producers to over 280 customers in Vermont, New Hampshire, and Massachusetts. Its Farm to School program supports over 30 schools to increase local food purchasing, school meal participation, and food, farm, and nutrition education. Food Connects is also frequently hired to provide leadership and consulting services for efforts aimed at transforming local food systems in the New England region.