Posted May 25, 2022 at 08:42pm by Jake Claro
Food Connects Welcomes Marketing Coordinator
Image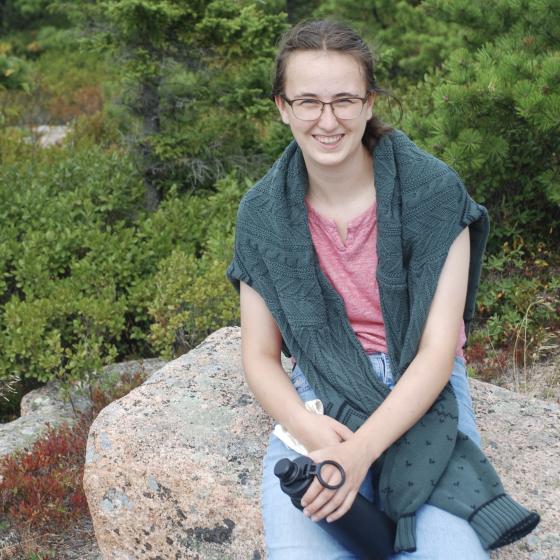 Food Connects is excited to welcome Kristen Thompson to the team as its Marketing Coordinator. Kristen will work closely with the organization's Food Hub to improve the program's communications and increase its promotion of local farmers and food producers.
Kristen joined the team in early March and brings a wealth of experiences. Before joining Food Connects, Kristen held positions at Community Garden Connections and the Alliance for Youth Climate Leadership, located in Keene, NH. Kristen received her undergraduate degree from Marlboro where she first started studying food systems and her time as a Master's student at Antioch University exposed her to even deeper issues within our food system—her interest was piqued. "I became very concerned by how fragile our industrial food system has become," says Kristen. "And how damaging big agri-food businesses are to people and the planet. I was inspired by Food Connects' work to support small to mid-sized local and regional food producers and educate and invigorate the next generation of growers, makers, and eaters in our region."
Kristen has a background in marketing and outreach for small, fast-growing non-profits—which describes Food Connects. Her unique perspectives on research, strategic thinking, and experimentation are exciting prospects for how Food Connects can better tell the story of its producers.
Additionally, her background in systems theory and storytelling will help lift up the Food Connects narrative as the organization continues to build broad support for big food systems changes. "What Food Connects is doing is different, and it's also complex! The more we can draw the threads of our different work together and identify the themes and stories that underpin them, the better we can connect with current and future partners and the community."
And beyond her wide range of skills that will amplify the organization's work, Kristen has a passion for creating serious change within our food system. "To me, the local food movement is about redistributing power back to communities and small businesses so that, together, we can work to build a network of resilient and thriving local food systems that nurture workers, families, communities, and the planet. Food Connects is a fast-growing and evolving organization that provides an essential link between many networks, collaborations, stakeholders, ideas, and resources in our region."
And the timing of Kristen's hire couldn't have been better. As the organization grows, more support is needed for the organization's many initiatives—including supporting the Food Hub's many regional producers, growing the new Vermont Way Foods brand, and early-stage implementation of a technical assistance program with the Intervale Center. "I am so thrilled to have Kristen as part of the marketing team," says Laura Carbonneau, Marketing & Outreach Manager. "She brings a fresh perspective and new ideas to our team. Her incredible storytelling ability will amplify not only the work on our programs but also the incredible work of our farmers and food producers. I am excited to see how we are able to flourish with this extra capacity for outreach and engaging more individuals in the story of our regional food system."
"I'm excited to amplify the stories of Food Connects and our students, farmers, makers, and small businesses working together to build a better food future," says Kristen. "I look forward to expanding our marketing and communications capacity and strategy as we continue to grow our work and amplify the voices of our partners."
Food Connects is an entrepreneurial non-profit that delivers locally produced food as well as educational and consulting services aimed at transforming local food systems. The Food Hub aggregates and delivers from over 150 local farms and food producers to over 150 buyers in southeast Vermont, southwest New Hampshire, and western Massachusetts. Their educational services focus on Farm to School programming. Acknowledged as a statewide leader, the program supports over 30 schools to increase local food purchasing, school meal participation, and food, farm, and nutrition education. Together these core programs contribute to a vibrant local economy by increasing local food purchases by schools and improving students' nutrition and academic performance. Additionally, Food Connects is frequently hired to provide leadership and consulting services for efforts aimed at transforming local food systems in the New England region.