Posted May 25, 2022 at 08:48pm by Jake Claro
Joey Jacques Wins Jr. Iron Chef Competition!
Image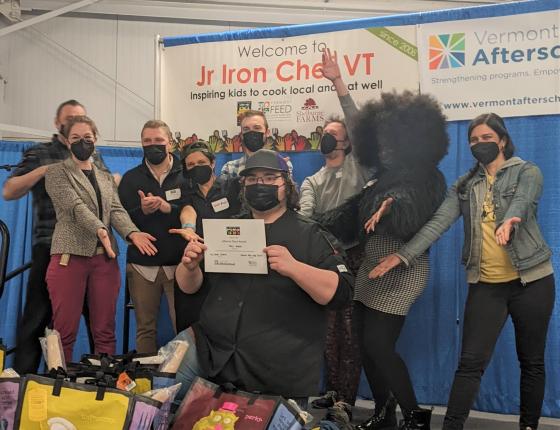 On April 2nd Joey Jacques of Bellows Falls Union High School (BFUHS) competed in the Junior Iron Chef VT  competition and took home the Mise en Place award cooking by himself! His winning dish was Portobello Katsu over a Sweet Potato Curry and Coconut Rice.
Jr. Iron Chef VT is a statewide cooking competition for middle and high school students. Teams are invited to create healthy vegetarian dishes using seasonal ingredients and show off skills formed in after-school clubs at their local schools. The program was started in 2008 and has grown extremely popular, with over 5,000 students participating over the years.
Due to a winter storm, the March competition date was postponed. Because of rescheduling, Joey's teammate Kevin Patterson could not compete, so Joey Jacques had to cook solo—a rarity at Jr Iron Chef, where teams are usually three or more students. 
However, cooking solo did not damper the team's abilities. In fact, Joey was able to win one of the three awards up for grabs at the competition! Quite a remarkable achievement!
Joey had put quite a bit of preparation time into the event. He and Kevin had met eight times with their coach Jake Gallogly, the Nutrition Assistant at BFUHS. Both students had significant experience cooking with their families at home, but both also mentioned the techniques they had learned under Jake's guidance. Joey shared, "I 100% learned new techniques and vocabulary here. Julienne, mince, mise en place. Learning how to do things correctly is a big thing here". 
It makes sense, then, that Joey took home the Mise En Place Award!
Coach Jake Gallogly remarked that "watching Joey cook was pretty awesome. I don't know if he noticed or not, but all of the judges and many of the coaches kept coming up to me and asking if he was really competing alone. They were really impressed."
So Jake wasn't completely surprised when they announced Joey's name as the winner. But the extra reward came when the captain of the judges told Jake, "his dish was by far the best, and they'd pay for it in a restaurant!"
Jr. Iron Chef helps build confidence in students and offers them a unique opportunity. Jake reflects, "Jr. Iron Chef is a great program. All three times that I have had the opportunity to coach a team, I feel that the kids walked away with more confidence in the kitchen. Cooking aside, I think some of the students that participate in the program aren't always involved in competitive sports, so showing up to the expo center with all the energy and the big crowd of people there has to be exciting. Everyone needs a few butterflies in their stomach once in a while!"
We'll be waiting with anticipation to see if Joey competes again next year.  
Food Connects is an entrepreneurial non-profit that delivers locally produced food as well as educational and consulting services aimed at transforming local food systems. The Food Hub aggregates and delivers from over 150 regional farms and food producers to over 150 buyers in southeast Vermont, southwest New Hampshire, and western Massachusetts. Their educational services focus on Farm to School programming. Acknowledged as a statewide leader, the program supports over 30 schools to increase local food purchasing, school meal participation, and food, farm, and nutrition education. Together these core programs contribute to a vibrant local economy by increasing local food purchases by schools and improving students' nutrition and academic performance. Food Connects is frequently hired to provide leadership and consulting services for efforts to support food systems initiatives throughout New England and act as a catalyst for change.