Posted March 16, 2023 at 09:36am by Jessica Gebbie
New Partnership Forms Between NorthCountry Federal Credit Union and Salvation Farms: NorthCountry Invests in the North Country
Image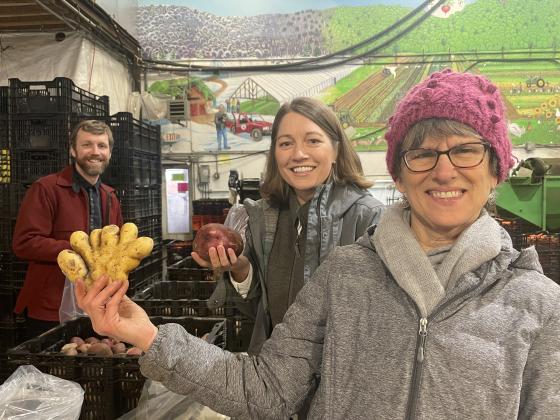 NorthCountry Federal Credit Union (NCFCU) has awarded Salvation Farms $5,000 from their Community Giving Grant program. This is the first time Salvation Farms has received a grant from NCFCU, affording Salvation Farms a new partner in their work to increase Vermont's use of locally-grown surplus food.
NCFCU is a credit union that has its roots in Burlington and is committed to supporting nonprofits in Vermont. NCFCU has made food pantries and food shelves a focus of their charitable giving. Salvation Farms, with its roots in the Lamoille Valley, provides Vermont-grown, farm surplus food to the same types of food programs. These grant funds will help Salvation Farms advance their gleaning and surplus crop processing in northeast Vermont.
"NorthCountry recognizes the importance of fighting food insecurity in our communities. Salvation Farms provides farm fresh food to the people who need it most," says Bob Morgan, NorthCountry's CEO. "Individuals and families with limited food access deserve fresh ingredients that can be used to make nutritious meals, and Salvation Farms makes that possible."
In 2023, Salvation Farms predicts they will collect upwards of 90,000 pounds of surplus local produce, serving more than 50 farms and 60 community-based food programs in Vermont's four northeast counties. Salvation Farms also estimates producing as much as 10,000 pounds of frozen food from crops grown in abundance in Vermont, think zucchini and butternut squash. To make all of this possible, funding is essential. Volunteer engagement is also key. Salvation Farms anticipates working with upwards of 200 volunteers to achieve their goals this year.
"Salvation Farms is proud to have a new partner in NorthCountry Federal Credit Union. Investing in the health and wellness of our community must start by ensuring the basics, including that people are fed. For nearly twenty years, our organization has been dedicated to helping farmers feed more people in their communities with the nutritious food they grow that isn't making it to market. We thank NorthCountry for joining us in this critically important work" says Theresa Snow, Salvation Farms' Executive Director.
To learn more about Salvation Farms, go to www.salvationfarms.org.
To learn more about North Country Federal Credit Union, go to www.northcountry.org.