Posted October 5, 2021 at 11:40am by Laura Hardie
New Program to Help Vermont Dairy Farm Families Evaluate Their Options for the Future
Image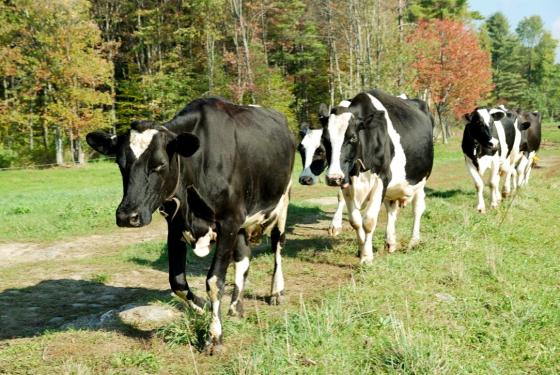 A new program is available to Vermont dairy farmers to assist them with conversations about the future operations of the farm. This comes at a time when dairy farmers have been paid below the cost of production for many years, while their equity gets smaller and smaller. As a result, dairy farmers may be considering transitioning to another farming model. The options can be overwhelming. It can be even more complicated when the farm is a family affair.
The Vermont Agricultural Mediation Program (VTAMP) now offers free intra-family mediation and counseling for dairy farms in Vermont facing financial challenges, with support from the Working Lands Enterprise Fund.
VTAMP can help dairy farmers to:
●       Feel confident that they're investigating all options for the future of the farm.
●       Improve their farm's financial situation while keeping business and family relations intact.
●       Start a conversation about what's next with family members or partners who may have different visions for the future.
VTAMP provides mediation services to all types of Vermont farmers on a variety of issues including USDA programs, water quality, farm debts, farmer/neighbor issues, family farm transitions, pesticides, and more.
VTAMP recently expanded its services to offer free intra-family mediation and counseling to help Vermont dairy farms reach consensus among family members and/or business partners about future operations of their dairy farm.
 "Dairy farmers will receive counseling, mediation, and financial and technical advice to develop options and make informed decisions about the future direction and viability of their farms," Director of VTAMP, Matt Strassberg said. "Mediation can be a useful tool to navigate difficult conversations and hopefully reach consensus on the best path forward. We are pleased to provide this service free to farmers and other members of the agricultural community in Vermont."
The project is a partnership with the Vermont Housing and Conservation Board's (VHCB) Vermont Farm & Forest Viability Program, which provides business and financial planning support.
For more information or to enroll visitwww.vtamp.org where you can fill out the online request form, or contact Matt Strassberg at the Vermont Agricultural Mediation Program at (802) 583-1100 ext. 101 or at matts@emcenter.org.
##
About the Environmental Mediation Center:
VTAMP is a program of the Environmental Mediation Center (EMC), a non-profit organization that designs and administers environmental and agricultural dispute resolution programs. The EMC administers the United States Department of Agriculture's certified mediation programs for California, Vermont, New Hampshire, and Hawaii. The EMC specializes in working with diverse stakeholders on challenging policy issues involving agriculture and the environment. The EMC also designs and administers environmental dispute resolution programs utilizing mediation screening for governmental and regulatory permitting bodies.