Posted June 8, 2023 at 11:09am by Laura Hardie
UVM Food Systems Research Center Launches Listening Tour to Inform New Research Topics
Image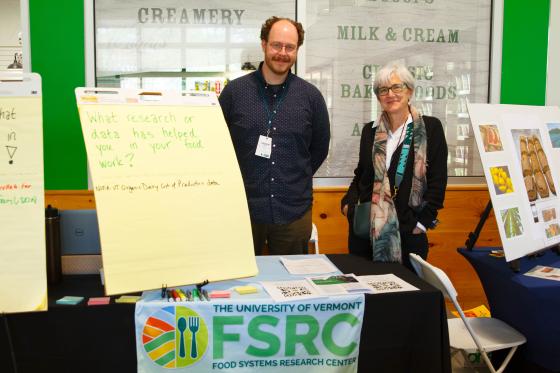 Burlington, Vermont – UVM's Food Systems Research Center (FSRC) is excited to announce the launch of an upcoming listening tour, the first stage of the ASPIRES program, a community-led visioning process for future food systems research. ASPIRES stands for Alternative System Pathways for Interconnected Resilience, Equity, and Sustainability, and is a multi-year commitment from the FSRC. 
"First, we want people to know that the Research Center is a resource for Vermont and the Northeast. We're here to do engaged research with community partners and policymakers to foster solutions for better food systems," Director of the FSRC, Polly Ericksen said. "ASPIRES is trying to determine what "better" means in terms of resilience, equity, and sustainability."
The listening tour, which will begin in June and run for approximately one year, will introduce the FSRC to food systems stakeholders across the Northeast and collect data on what areas within the food system could benefit from more research. To date, the FSRC has provided over $7M in research, training, and equipment funding across the Northeast. 
"As ideas and themes emerge, we'll be considering if it's possible to fund technology, a pilot project, or invest in research on those topics," Ericksen said.
Through a request for proposals (RFP) process, a team of interdisciplinary food systems researchers was selected to work with community partners to coordinate the ASPIRES project. The team will include Researcher Andrew May and Research Assistant Professor Joshua Faulkner of UVM Extension's Center for Sustainable Agriculture, as well as Professor Jane Kolodinsky of UVM's Center for Rural Studies. By working with UVM Extension and the Center for Rural Studies, well-known leaders in food systems research and outreach, and other regional partners, the FSRC will build on existing networks to understand the diverse landscape of food system partners across the Northeast.
"Ultimately, the goal of this listening tour is to be community informed by responding to the needs of communities and then balance that with the expertise, the skill sets, and the resources that UVM brings," May said.
The team will work with Northbound Ventures Consulting, a Montpelier-based consulting firm, to gather quantitative and qualitative data and facilitate focus groups. Their first information-gathering outreach will be with the New England Food Systems Planners Partnership, a collaboration of six state-level food system organizations, Food Solutions New England, and their vast network of partners. In 2019, the Partnership launched New England Feeding New England: Cultivating A Reliable Food Supply Project, a 10-year initiative to prepare the region for system shocks such as climate-related weather events and public health emergencies.
"We found that engaging with New England Feeding New England was a great opportunity not to duplicate efforts that had already been underway for many years," May said. "This will allow us to address research gaps coming out of the work they're doing, and simultaneously utilize the existing networks they've cultivated."
The listening tour will also bring the FSRC staff and support team to gatherings and conferences throughout the region. They recently attended the Northeast Farm to Institution Summit, which brings together food systems stakeholders to generate ideas and connections to support viable farm, food, and sea businesses and healthy, just communities. The team gathered information about attendees' opinions on food systems innovations and data. Fostering inclusive dialogue and bringing together diverse and differing views is crucial, Ericksen says. 
"What's unique about the Food Systems Research Center is we can provide evidence and an avenue for resolving potential conflict across the multiple outcomes that people may want by asking what evidence is there for these solutions and whose voices are still not yet at the table?'" Ericksen said.
Through the ASPIRES listening tour, May says the FSRC will focus on how research can help to create solutions.  
"In many ways, we understand what we don't like about the food system at a regional, local, global, or national level, and there's a lot of fantastic groups in the region that have been working on those questions for some time," May said. "This project aims to think about how research can advance food system solutions identified for the region."
For more information about the listening tour, contact Polly Ericksen of the Food Systems Research Center.
About the Food Systems Research Center:
The Food Systems Research Center (FSRC) at the University of Vermont (UVM) uncovers solutions to society's most pressing issues through the lens of our food system to improve human health, well-being and livelihoods, and environmental sustainability. The Research Center is a partnership between UVM and the US Department of Agriculture (USDA) focused on the Northeast U.S. but considers the relationship of food systems across scales from local to global. With over 100 funded faculty, staff, and student collaborators in Vermont and across the world, the FSRC conducts interdisciplinary and transdisciplinary research to study food systems: the networks of people, institutions, physical infrastructure, and natural resources through which food is grown, processed, distributed, sold, prepared, and eaten.