What's At Stake?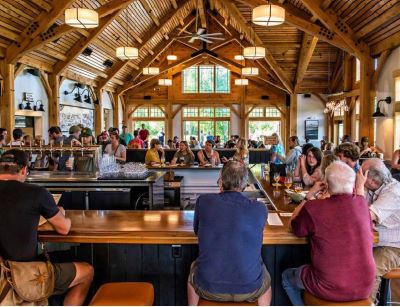 In 2019, Vermont's 68 breweries had $366 million in economic impact. Vermont brewers capture international accolades and are a powerful force for Vermont's food reputation, attracting consumers to Vermont-made beers and to the state itself for brewery tourism. In 2015, an estimated 1.2 million out-of-state brewery visits generated $50 million in non-bar/restaurant expenditures. Vermont brewers often highlight selected local ingredients in specialty brews and/or regularly source local ingredients, although there is room for growing these collaborations to the benefit of both breweries and farmers. Prior to the COVID-19 pandemic, the U.S. craft beer industry was experiencing saturation and declining demand. Vermont breweries were not exempt from that trend, and necessary pandemic restrictions are now threatening the survival of Vermont breweries of all sizes. Many breweries are creatively revisiting their business models, packaging, distribution, and marketing and sales strategy.
Current Conditions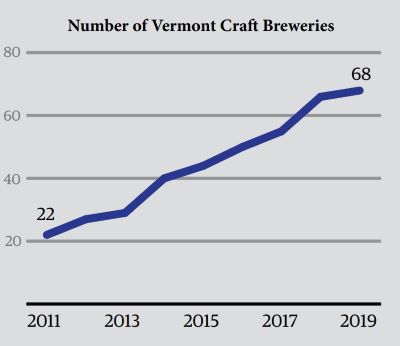 Breweries play a vital role in the Vermont food system, impacting agriculture, tourism, the service economy, transportation and storage, manufacturers, wholesalers, and retailers. In 2019, there were 68 breweries in Vermont, employing 2,969 people and producing beer for national distribution, local brew pubs, and the hospitality industry. Breweries are supporting the economic development of cities and towns by drawing considerable numbers of people to Vermont who spend in the surrounding community. In some cases lack of adequate municipal infrastructure is restricting potential brewery development.
Vermont brewers have increasingly integrated local agricultural products as they have become available and as consumer demand for local products has risen. Some brewers are using Vermont barley and wheat malted in-state, as well as Vermont hops, maple syrup, berries, apples, grapes and more (see Hops brief, Food- Grade Grains brief). Barriers to integrating more farm products into a brewery supply chain can include lack of infrastructure and potential variability in quality and consistency of these agricultural products, as well as a brewery's business model.
At the onset of the COVID-19 pandemic, the Division of Liquor Control (DLC) permitted curbside pickup and delivery under the State of Emergency, which enabled breweries without extensive bottling and distribution infrastructure to remain in business. While the brewing industry has historically relied heavily on tourism dollars, local support during the pandemic illustrates that tourists are not the only ones supporting Vermont beer. That said, without the return of pre-pandemic levels of tourism, or some other form of economic relief, the brewing industry will see closures and a contraction in growth.