What's At Stake?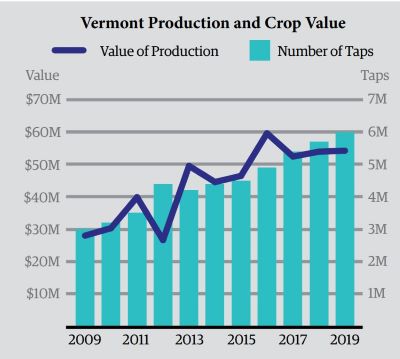 The Vermont maple sector is experiencing rapid growth in production and product innovation while holding a leadership role in maple distribution, research, and manufacturing for the United States. The expanding national demand for natural sweeteners, paired with improved production practices, creates an opportunity for continued expansion that will bolster job opportunities at all levels of the maple industry. Research estimates that 12% of the current maple resources are being used for syrup production, leaving a large amount of untapped forest available for expansion.1 Maple leaders are optimistic about sustained growth but recognize the need to adapt to new policy, climate, land use, and market forces to maintain Vermont's role as the premier maple state in the United States.
Current Conditions
Vermont produces 50% of the entire United States maple crop. High syrup prices from 2008-2013 facilitated rapid expansion and a significant influx of new businesses. The overall tap count and gross agricultural sales of maple syrup doubled in Vermont from 2008 to 2018 with farm-level production valued at $54 million in 2018.2 By 2018 the softening market price slowed expansion but many existing producers continue to increase production. Research from the UVM Proctor Maple Research Center and adoption of new technologies have played a major role in improving best practices that have increased yields. Recent food safety policy, water quality regulations, and climate change, however, provide a new list of issues that will require new practices to address.
Over 80% of the annual Vermont crop is sold to bulk buyers and a large portion of Vermont syrup is exported out of the state by both packers and individual producers. In-state syrup markets are experiencing increased competition as the syrup supply and the number of producers increase. Canadian syrup imports and United States and Canadian currency exchange rates also create strong competition against Vermont syrup nationally. Recent U.S. trade policy and tariffs have provided an additional advantage favoring Canadian companies. Meanwhile, maple expansion in other states prompts the need to bolster an updated Vermont maple brand.