Posted July 12, 2023 at 03:08pm by Kelly Dolan
Flood Related Resources for Vermont's Farming Communities
Image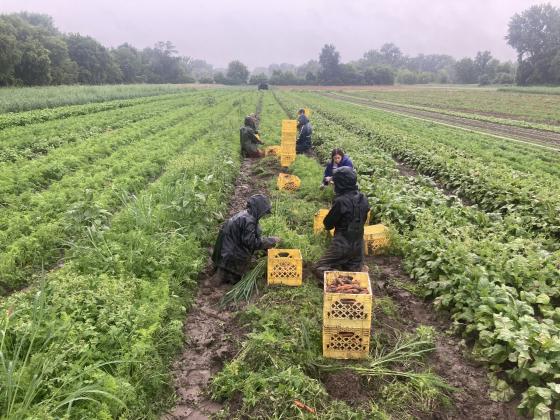 A heartfelt hello to the Farm to Plate Network,
These past couple of days have been incredibly difficult for many in our small, but vibrant state. We first want to acknowledge the widespread devastation brought on by flooding in several of our Vermont towns. At the same time, we want to express sincere gratitude for the ongoing contributions and efforts of organizations and individuals that are rapidly mobilizing to ensure support reaches those most in need. The coming days will be focused on immediate relief and assessing the impact of this event on our state's agricultural community. 
As an organization, we will do our best to share out relevant information and resources as they become available. Below is a list of organizations accepting donations, general and farmer specific resources that we will keep up to date on our website here. Farm to Plate Network members can also post resources and news related to storm on our website's news and information page: https://www.vtfarmtoplate.com/events-news-jobs
If you have any questions, please do not hesitate to reach out: kellydolan@vsjf.org
In solidarity,
The Farm to Plate Team
Where to donate:
Farmer specific resources:
Please pass along info to farm and food businesses and non-profits about ACCD's Business Emergency Gap Assistance Program (BEGAP) and Agency of Agriculture's BEGAP for Agriculture Operations. Of the $20 million available, VAAFM has received $1 million to address on-farm flood impacts for agricultural operations losses or physical damage, and this would include on-farm processing impacts. Farm/food businesses engaged in off-farm processing or food manufacturing should apply directly to ACCD BEGAP as a "manufacturing" or "retail" sector applicant (this pool of funds is $19 million, but includes applicants from all sectors impacted).

NRCS Vermont Allocates $4 Million to Help Farmers Recover from Floods
This funding applies to resource concerns that threaten the ongoing agricultural operation or create an imminent threat to agricultural operations. The only eligible practices under this EQIP-Disaster Assistance signup are the following seven practices: Cover Crop; Critical Area Planting; Fence; Pasture and Hay Planting; Mulching; Residue and Tillage Management, Reduced Till; Feed Management. The deadline to apply for this disaster assistance funding is September 1st. Please visit your local NRCS service center to apply. Click to find your local NRCS Service Center.
Additional resources:
Photo credit: Intervale Community Farm