Posted September 14, 2022 at 03:36pm by kelly@vsjf.org
Migrant Justice Continues Hannaford Milk with Dignity Campaign
Image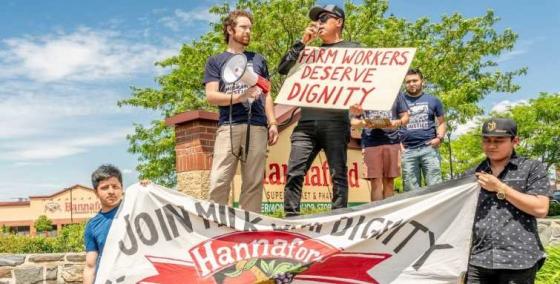 In 2020, Vermont Sustainable Jobs Fund (VSJF), NOFA-VT, Rural Vermont, Food Solutions New England, and many other organizations that work to strengthen the state and region's agricultural landscape and rural economy pledged their support for the Milk with Dignity campaign through an open letter to Hannaford's CEO, Mike Vail (https://migrantjustice.net/sites/default/files/MD-Hannaford-Food-Letter.pdf), stating that:
"Milk with Dignity aligns with our values of economic and social justice for all. We believe that, like everyone, farmworkers deserve to live and work in dignity. By signing on to Milk with Dignity, Hannaford has the opportunity to be a leader in taking responsibility for the rights and well-being of workers in their supply chain."
Two years later, these words hold true, but the Hannaford Campaign continues as the retailer has yet to enter into talks with Migrant Justice and its partners.
The Hannaford Campaign looks to replicate the successes of the Milk With Dignity Agreement signed by Ben & Jerry's by asking that Hannaford Supermarkets bring its store branded milk under the program to ensure that its farm suppliers are complying with a farmworker developed set of standards for dignified work and quality housing. Hannaford Supermarkets, owned by Ahold Delhaize which has a Responsible Retailing Program committed to sourcing practices that respect human rights, would pay a premium to farm suppliers to assist with compliance.
The success of the Hannaford Milk with Dignity Campaign, with its goals to eliminate human rights abuses on farms and improve farm labor conditions, would bring Vermont closer to achieving multiple Strategic Goals of the 2021-2030 Vermont Agriculture and Food System Strategic Plan, including:
Goal 4: Vermont food system jobs provide livable wages, safe, healthy, and supportive workplace conditions, and access to health care and other benefits.
Goal 15: Food system organizations and stakeholders prioritize racial equity and actions to eradicate structural racism in their work, are accountable to Black, Indigenous, People of Color (BIPOC) leadership, and support BIPOC participation and representation.
The Milk with Dignity program and Hannaford Campaign are also reflected in the 2021-2030 Plan's priority strategy #31 to "Provide livable wages and improve workplace conditions for all food system employees, especially BIPOC, by developing policies, shared workforce programs, market incentive programs (e.g., Milk with Dignity), and relevant technical assistance for farm and food businesses."
Learn How You Can Support the Milk with Dignity Campaign
The Milk with Dignity program is a movement of farmworkers and allies calling on dairy companies to ensure respect for human rights in the supply chain. Milk with Dignity's current effort is a campaign to get Hannaford Supermarkets to endorse the labor standards outlined in Milk with Dignity's Code of Conduct. To learn more about how you or your organization can support Milk with Dignity's Hannaford Campaign, check out the Milk with Dignity Ally Toolkit.
Lead photo by Terry Allen. Courtesy of Milk with Dignity.