Posted August 2, 2023 at 03:04pm by Kelly Dolan
The New Farm to Plate Steering Committee!
Image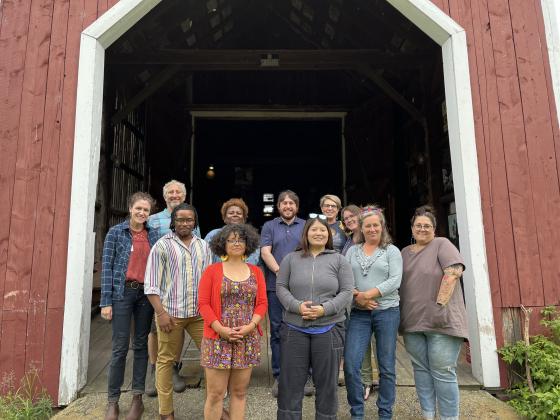 Please join us in welcoming Farm to Plate's new Steering Committee! The Steering Committee serves as a governing and advisory body for the Farm to Plate Network. They also play a key role in selecting the theme and content of the Farm to Plate Annual Gathering.
There are 17 total seats on the Steering Committee. Five seats are designated for Network leadership (one curator from each of the five Topic Exchanges), seven standing seats for food system organizations that represent a cross-section of food system issue areas and constituencies, and five seats selected through an open application process. 
The Steering Committee had its initial kick off meeting on Wednesday, June 14th at Knoll Farm in Waitsfield to discuss their shared work and this year's gathering theme. After reviewing feedback from the 2022 Gathering, they selected the theme of, "Transformative Change". There is a shared sense amongst Network members to "be brave" in how we work together to address some of the most pressing issues facing our state, region, and world.
Committee members:
| | | |
| --- | --- | --- |
| Organization/Business | Name | Network Leadership Role |
| Hunger Free VT | Lechelle-Antonia Gray | Food Security TE |
| VAAFM | Ari-Rockland Miller | Land Access and Land Use TE |
| Saint Michael's College | Kristyn Achilich | Ed, Workforce and Labor TE |
| VAAFM | Abbey Willard |   |
| NOFA-VT | Helen Rortvedt |   |
| NOFA-VT Designated alternate(s) | Erin Buckwalter |   |
| Rural Vermont | Graham Unangst-Rufenacht |   |
| Rural Vermont Designated alternate(s) | Caroline Gordon |   |
| Shelburne Farms | Betsy Rosenbluth |   |
| Vital Communities – Alternate for Land Access and Land Use TE | Sarah Danly |   |
| Vermont Way Foods | Matt Landi |   |
| Vermont Releaf Collective | Samantha Langevin |   |
| Designated alternate | Jennifer Morton-Dow |   |
| USDA | Joshua Allen |   |
| Green Acres Homestead | Mark Montalban |   |
| Radiance Studios LLC and Vermont Womenpreneurs | Mieko Ozeki |   |
| Vermont Youth Conservation Corps | Susie Walsh-Daloz |   |