Posted March 17, 2022 at 10:36am by Anonymous (not verified)
North Hardwick Dairy
Image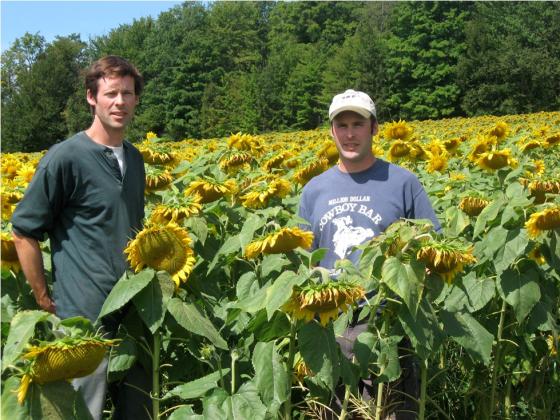 Everyone in the Hardwick area knows the North Hardwick Dairy —"it's the one on the hill with the wind turbine."
The turbine is evidence of farmer Nick Meyer's focus on meeting his goal of greater self-sufficiency. "I want to produce everything the farm needs on the farm."
The higher and relatively stable milk prices for organic milk allowed the 327-acre, 110-cow (63 adult milkers) farm to plan and experiment. "[Organic] milk price doesn't go up and then drop, up and drop as with conventional milk prices," Meyer explains.
With a 10kW Bergy wind turbine, North Hardwick Dairy makes a dent in its electricity usage (10-12%), and a potential upgrade to a 35kW would cover all the farm's electricity needs.
North Hardwick Dairy uses 4,000 gallons of diesel each year (2,000 gallons of diesel for off-road equipment and 2,000 gallons in their furnace). At an Organic Valley award ceremony to honor North Hardwick Dairy's winning "best organic milk" seven years in a row, Meyer came across a card advertising the BioPro 190, a small automated machine that turns vegetable oil into biodiesel. He purchased a BioPro in 2005 but was unable to get enough used vegetable oil to meet his needs. With a grant from the Vermont Sustainable Jobs Fund, North Hardwick Dairy planted sunflowers and bought an oilseed press. Nick's plan is to use the press to create food grade oil that he would sell to local restaurants for frying and then reclaim the used oil for making biodiesel. In 2011-2012 North Hardwick Dairy will have a chance to test this model.
Sunflowers are planted in May and harvested in October. To maintain optimal storage and pressing moisture, the seed is stored in a huge outdoor bin, where it is dried to about 9% moisture using a fan. The dry seed is put into a seed cleaner. Then, the press produces, along with the oil, a high-protein "licorice-rope looking" meal, ideal for newly weaned calves.
Meyer mixes the oil (whether it's reclaimed or "virgin") with alcohol (methanol) and small amounts of potassium hydroxide and sulfuric acid in the BioPro to create 50-gallon batches of high-quality finished biodiesel. The fuel is ready in about 48 hours, and then it's "washed and dried" to remove residual contaminants. Nick tests every batch to make sure the conversion to biodiesel is complete, and then his fuel is stored for blending with diesel in the tractors and combine. Meyer touts the lubricity value of biodiesel over regular diesel. It costs Nick about $1.55 to make a gallon of biodiesel from used vegetable oil from other sources, and about $2.67 gallon from his sunflower oil. The major cost of the biodiesel is the methanol. If methanol could be sourced at a lower price, says Meyer, then he could be reducing production costs by about $0.50 per gallon.
This summer, Meyer plans to plant 12 acres to produce 10,000-15,000 pounds of sunflower seed. At 50-80 gallons of oil per acre, production would run to 600-960 gallons of oil.
Written by Diane Reynolds.