Posted February 9, 2023 at 09:36am by Kelly Dolan
A SNAPshot of the Largest Food Assistance Program in the US
Image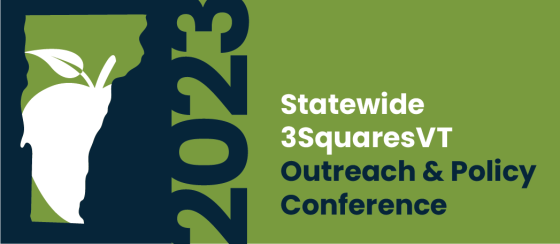 Carissa Brewton, RD and Co-curator of the Farm to Plate Food Security Topic Exchange 
Interested in learning more about food security issues? Register for the Food Security Topic Exchange by editing your profile on the Farm to Plate website, or joining the Farm to Plate Network and registering for this group.
Program Overview
The Supplemental Nutrition Assistance Program (SNAP) is a federally-funded program that is administered by states. This means that state governments have some power to determine how the program operates in their state, which leads to differences in the program across the nation. So, connecting with the agency that administers SNAP is key in understanding how it works in your state (more on how SNAP works in Vermont below). 
SNAP is also an important economic program - it is designed to be an economic stabilizer. In economic downturns, more Americans are eligible for SNAP, and SNAP puts money directly in their pockets to spend on food. This increases the amount of money going back into the economy. It even has a multiplying effect; economic studies estimate that for every $1 billion spent on SNAP, $1.54 billion is generated in the economy.
How SNAP Works
To participate in the program, households submit an application to their state agency. If approved, the household receives a debit card that receives their benefits every month called an Electronic Benefits Transfer (EBT) card. This card can be used just like any other card at any food retailer that accepts SNAP benefits. 
Benefits can be spent on most food items found at a grocery store, as well as seeds and seedlings for food-producing plants. However, SNAP benefits cannot be spent on ready-to-eat, hot, prepared foods, alcohol, vitamins, supplements and medicines, live animals, and non-food items. This aspect of the program is important; it maintains the dignity of people participating in the program because they have agency over their food choices when shopping and don't stand out from their peers by paying with food stamps anymore.
SNAP in Vermont
In Vermont, the Supplemental Nutrition Assistance Program (SNAP) is administered by the Agency of Human Services - Department for Children and Families and named 3SquaresVT to highlight the goal of making sure every Vermonter can eat "three square meals". Currently about 70,000 people are enrolled in 3SquaresVT; about 25% are older adults and 30% are children under 18 (Data received from Ivy Enoch, Hunger Free Vermont). 
Winter months are the hardest on Vermonters due to increased food and fuel costs and weather impacts on transportation and travel, so 3SquaresVT is especially important right now. Additionally, as you all know, several months of inflation have increased food costs significantly. As people and professionals who care about food insecurity, it is important for us to be informed about SNAP and promote it to our neighbors and community members. Stigma remains around receiving government assistance like SNAP/3SquaresVT, but we can all contribute to reducing the stigma. Hunger Free Vermont and other organizations in Vermont are working hard to decrease the stigma and have excellent resources to help us all use inviting, destigmatizing language when we talk about 3SquaresVT.
Vermonters who claim the Earned Income Tax Credit (EITC) are automatically eligible for SNAP. Since it's tax season, it's an important time to raise awareness about the benefits of the EITC. 
Important SNAP Update
Since the onset of the pandemic in 2020, monthly SNAP benefits for all participants have been temporarily increased through Emergency Allotments. However, these boosts are slated to end in March. In the words of Ivy Enoch at Hunger Free VT, "On average, 3SquaresVT households' benefits will be reduced by $82 per person per month when Emergency Allotments end. This is a substantial cut given the relatively modest benefits that SNAP provides, and only compounded by high food costs. This will also impact our state economy, local food retailers, farmers, and growers, as an average of $6 million every month will be lost when these allotments end." 
While this information is discouraging and comes during a challenging season for Vermonters, organizations and advocates in Vermont are working together to support Vermonters as much as possible during this transition. Additionally, 2023 is a Farm Bill year, meaning that our federal government is in the middle of deciding how to change SNAP for the next five years, including funding. It is a very important time for advocacy! 
Resources for Further Information and Advocacy
To learn more about SNAP and how it works: 
Ivy Enoch at Hunger Free Vermont offers free SNAP training sessions! Sign up for the next training series or request a training for your team here.
Vermont's Legal Help Website provides an overview of SNAP in everyday language and links to other relevant resources.
Attend the 3SquaresVT Statewide Outreach & Policy Conference in April! 

Join Hunger Free Vermont, the Department for Children and Families, and statewide food security partners for a free two-day conference on April 12 & 13 to gain a deeper knowledge of 3SquaresVT through workshops, roundtables, and panel discussions focused on the latest changes to the program, outreach best practices, and advanced 3SquaresVT training. Registration will go live on February 20, 2023. More information can be found here.
If you are interested in presenting at the conference, fill out this form!

 
Resources for Service Providers
https://vermontfoodhelp.com/ is a website managed by Hunger Free Vermont with comprehensive 3SquaresVT information and updates for applicants, participants and service providers.
The Vermont Foodbank helps Vermonters fill out their SNAP applications.
NOFA-VT supports farmers who want to accept SNAP benefits at farmers markets and farm stands and offers other programs to make local food more accessible to SNAP participants.

 
Farm Bill Advocacy
An overview of SNAP and how it fits into the Farm Bill is linked here.
The Vermont Farm Bill Nutrition Title Steering Committee is finalizing priority recommendations to share with Vermont Members of Congress in February, with input from community members and service providers.