Posted November 10, 2021 at 04:59pm by Nick Christensen
VHCB Viability Program Announces Next Round of Water Quality Grants
Image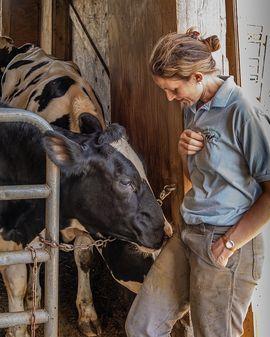 VHCB Water Quality Grants Available for Vermont Farms
November, 4 2021 | Montpelier, VT - The Vermont Farm & Forest Viability Program, a program of the Vermont Housing & Conservation Board, has grant funds available for on-farm capital improvement projects that have a positive impact on water quality. Eligible farmers can apply for a Water Quality Grant, which provides $5,000 to $40,000 in funding. Applications are due by January 21, 2022. More information, eligibility requirements, and applications are available on the Vermont Farm & Forest Viability Program Website at: https://vhcb.org/WQG
Water Quality Grants help farmers make capital improvements that enhance manure management and soil health, reduce runoff, and ultimately support the long-term success of farm enterprises. Construction, renovation, long-term infrastructure, and in some cases, equipment projects are eligible. The grants assist with the costs of improvements required to comply with regulations and are designed to complement existing federal & state programs.
These grants are funded by the State of Vermont through Vermont's Capital Construction and State Bonding Act, and since 2017, VHCB's Viability Program has awarded more than $3.3 million in Water Quality Grants, leveraging more than $25.6 million to support water quality projects in the state.
There are important changes to the program this year:
·         Farmer Contribution: Recognizing the significant investment business owners are taking to make long-term water quality improvements, farmers are no longer required to contribute at least 10% of project costs through their own cash, loans or in-kind labor. A 50% match requirement for projects is still in place, but can be covered entirely by other sources such as NRCS or VAAFM grants.
·         Single Round of Applications: This fiscal year, there will only be one round of applications, due January 21, 2022.
·         Web-Based Application: This round of applications will utilize a new web-based application system, which is preferred to submitting paper or PDF applications. To receive application instructions, please contact Aaron Guman at Aaron@vhcb.org or 802-828-5587.
Renee and Chet Baker own and operate a first-generation dairy farm in Albany, VT, providing milk to the award-winning Jasper Hill Creamery.  In 2019 the pair received a VHCB Water Quality Grant for $35,359 to build a new concrete manure stacking pad.
"The new stacking pad has made our lives easier, and there's no way we could've financed it on our own even though it was needed. Day-to-day chores, like moving feed and cleaning the barn have been much easier, and water-quality wise, manure is staying where it's supposed to be. Our goal is to keep the water as clean as possible because water quality doesn't just pertain to people -- everything utilizes it. If you take care of the water, it takes care of you in the long run. If we don't have water, we don't have cows to milk. It all goes together."
For questions regarding this grant opportunity, please contact: Aaron Guman at Aaron@vhcb.org or 802-828-5587.
_________________________________
The Vermont Farm & Forest Viability Program provides business planning, technical assistance, and ownership transfer planning to farm, food and forest products businesses. For more information about the Viability Program, please visit www.vhcb.org/viability.
###