What's At Stake?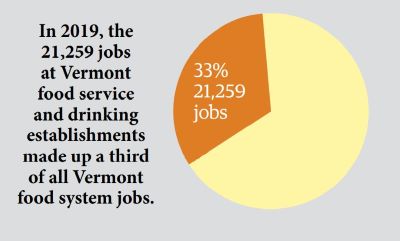 From mom-and-pop diners to high-end establishments, restaurants play a key role in shaping the way consumers eat and think about food. They also play a role in the success of Vermont farms by featuring, and increasing the amount of, locally grown food that they purchase. Enhancing restaurant and farm partnerships is a win-win for the health of Vermont's rural economy and the overall financial sustainability of rural communities. Before the COVID-19 pandemic, restaurants accounted for 3% of all local food purchases in Vermont, with at least $9.7 million flowing back to local food producers. As of this writing, the COVID-19 pandemic economic shutdown has hit restaurants hard: 30% of restaurants will not reopen according to current estimates. It will take time to rebuild lost restaurant livelihoods, jobs, farmer and chef relationships, and community gathering spaces, and without a dedicated and coordinated response, they may never return to pre-COVID levels.
Current Conditions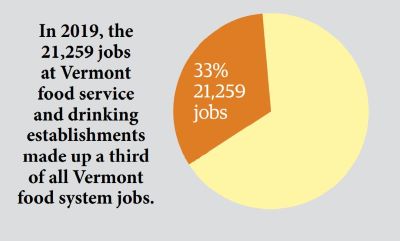 Over the last 20 years, Vermont's farm-to-table movement has grown tremendously. Consumer expectations and increased demand have driven restaurants to increase their sourcing of local ingredients, form partnerships with local farms, and include food sourcing transparency as an integral element of their brand identity. The COVID-19 pandemic may reinforce consumer trends related to transparency, health, and freshness which favor local-sourcing restaurants.
The restaurant market is highly competitive, with razor-thin margins and an overall industry-wide staffing shortage both in Vermont and nationally. The obstacles that restaurants face to increased purchasing of local food include product cost, staffing shortages, staff training, storage, and consistent product quality and supply. Because of limited distribution resources, many farms deliver once or twice per week (larger restaurants and/or restaurant groups prefer three or four times per week). Lack of technology and limited distribution networks put small and medium-sized farms at a disadvantage when competing against large distributors serving the restaurant markets.
To increase the purchasing of local food in the restaurant market, we need to remove barriers in the farm-restaurant relationship. These barriers can include the cost to consumers, inefficient communication, lack of awareness of what's available, and the lack of farmer utilization of or interest in distribution networks. It is important for restaurants and farmers to understand each other's businesses, and to strengthen their partnerships with increased communication and education. Statewide organizations and smaller regional organizations provide resources, tools, and marketing assistance that foster linkages between restaurants and producers, and should build on current efforts while removing duplicative ones.
In 2018, there was an estimated $1.1 billion in sales at Vermont's 1,413 eating and drinking locations.