What's At Stake?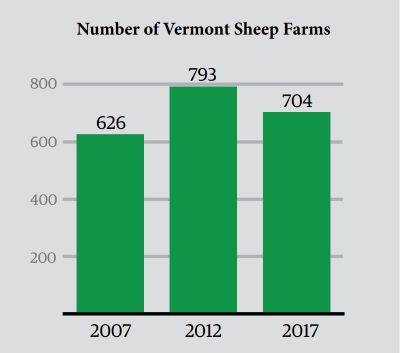 Sheep and their products—meat, milk, and fiber—were Vermont's first agricultural commodity and still have a significant role to play in the state's landscape. These small ruminants can take full advantage of Vermont's unruly topography and mixed vegetation in a way larger animals cannot. Currently, raw sheep products are imported into the state to meet demand for value-added processing, a sure signal that there is room for growth. For example, slaughterhouses import lamb for retail, cheese makers import milk for unique artisanal blend cheeses, and fine western fiber is blended with coarser local fiber in production manufacturing of soft yarns. With comparatively low capital investment requirements, starting up a sheep operation can be an attractive agricultural endeavor.
Current Conditions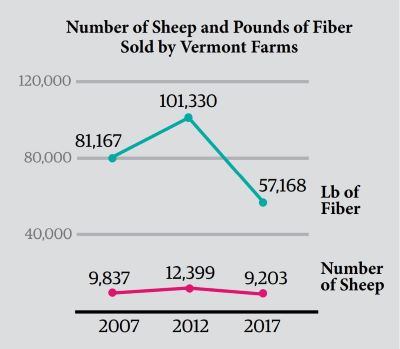 The number of sheep farms in Vermont and much of the United States dropped precipitously in the 1990s when wool, the most lucrative revenue source for sheep producers, lost value against synthetic textiles. Some boutique cottage industries developed (e.g, specialty yarns, Christmas stockings, rugs), as did service industries supporting them. A small percentage of the fleece "clip" is a fine, soft fiber and is directed to cottage industries. The majority of the fleece produced in Vermont, however, is coarse, and better utilized for more industrial-type purposes, although there is no large-scale processing in the state for it. Many Vermont sheep farmers have turned to meat and dairy as a money-making opportunity.
As of 2017, Vermont had approximately 704 operations. Most (88%) tend to be operations with fewer than 50 animals, serving a local market. Scaled-up Vermont operations of greater than 100 head, producing lamb and/or milk for cheese, are typically profitable when they fully incorporate good grazing management.
Since 1995, sheep dairies have enjoyed growing consumer demand for artisanal cheese, creating several jobs in that sector, and creating a market for sheep milk. However, part of that sheep milk is now imported from out-of-state dairies that have converted from milking cows. The lamb market has also grown, as lamb occupies a niche in certain consumer markets. However, issues with slaughter and processing facilities continue to be a significant obstacle (see Meat Slaughter, Processing, and Products brief.)