What's At Stake?
Vermont's farm and food economy gained 742 net new businesses between 2010-2017, and economic output expanded 48% from $7.5 billion to $11.3 billion between 2007-2017. Despite this growth, these businesses are affected by the workforce shortage impacting all sectors in Vermont, and many report that a lack of employees with the required skills is holding back their production and planned growth. In order to sustain the expansion of Vermont's agricultural economy, existing workforce solutions must be adapted for the unique needs of farms and food system businesses. Simultaneously, despite the overall workforce shortage in the state, individuals living in Vermont often have difficulty finding careers that provide a livable wage, and need greater access to training and employment resources. Preserving the local food system as a viable economic driver requires workforce solutions that benefit both employees and employers.
Current Conditions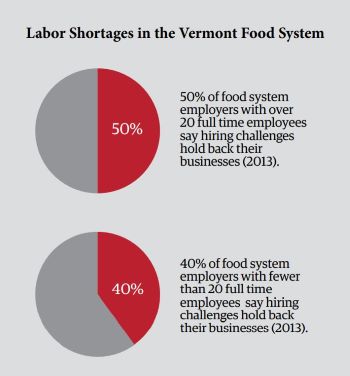 Vermont's declining population and low unemployment rate result in heightened competition for available workers, especially those with mid-level management experience or specific high-demand technical skills. At the same time, potential employees may be interested in certain jobs but unable to accept them if the wages are too low relative to Vermont's cost of living and/or their debt burden from student loans.
Vermont's workforce shortage severely limits the viability and growth of businesses of all sizes. Many food system businesses report that a lack of employees is holding their businesses back.3 In some cases, businesses are able to find employees, but high turnover rates increase training expenses and reduce productivity.
Food system businesses compete with businesses in other sectors for their workforce needs and are often at a disadvantage. Farms, and many other food system businesses, typically have at least some seasonal positions, which present a disadvantage in attracting employees compared to year-round work. Most farms are located away from population centers, creating a serious barrier for jobseekers who cannot afford their own vehicle, and a deterrent even for those who can. Where public transportation does exist, it is often based on the nine-to-five workday and does not operate during hours appropriate for food system workplaces such as farms, bakeries, and restaurants.
Employers and educators report a mismatch between food system job duties and prevailing cultural beliefs about what makes a good career. Many job seekers are inexperienced or unenthusiastic about the manual labor required on farms and in many other food system workplaces. There is also a shortage of basic work readiness skills in the Vermont workforce, impacting employers in all sectors. And many food system positions require technical skills that few potential employees possess (e.g., food safety quality assurance) or that potential employees do not associate with food system careers (e.g., commercial driver's license).